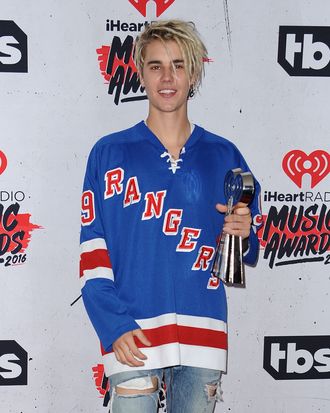 Justin, before the hair cut.
Photo: Jason LaVeris/FilmMagic
International pop star and overgrown teen mallrat Justin Bieber made some interesting stylistic choices for his head-suit this spring. He sported some scuzzy bleached dreadlocks, and just recently was defending his coif to anyone who judged them (or suggested they might look like, say, Grinch fingers).
But our long national nightmare is over. The king of the wealthy crust punks has given up his crown — literally. Last night, the Biebs posted an Instagram of his freshly shorn head, his dreadlocks nothing more than a bad memory, if one forever preserved on the Internet. Justin gave no explanation for the new look — perhaps this year's Met Ball invitation included a "no teen dirtbag hair" guideline.