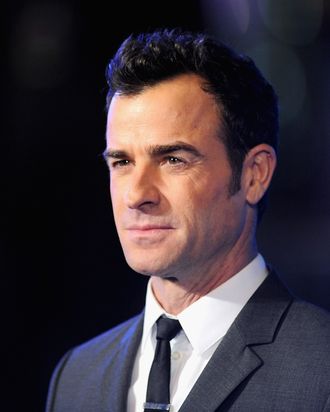 Justin Theroux.
Photo: Jeff Spicer/Getty Images
"Page Six" has accused Justin Theroux, husband to Jennifer Aniston, of wearing eyeliner. More than once.
"We're told the actor has taken to wearing a healthy dose of eyeliner — and his wife, Jennifer Aniston, advises him on the brands that might best flatter his brown eyes," the paper reported yesterday evening. Oh ho. And that's not all! The story continues: "Since he is a touch sensitive about his 5-foot-9-inch frame, [he] likes to wear shoes that give him as much height as possible."
Is that so?
I don't think you should take "Page Six"'s word for it. Today, the Post followed up with a complementary slide show of photos of Theroux's face with the headline, "Justin Theroux: Is he or isn't he wearing eyeliner?"
As you can see, nobody's really sure, but "Justin Theroux" and "eyeliner" are fun words to say. So far, neither Justin nor Jen has responded to these frankly unfounded allegations.