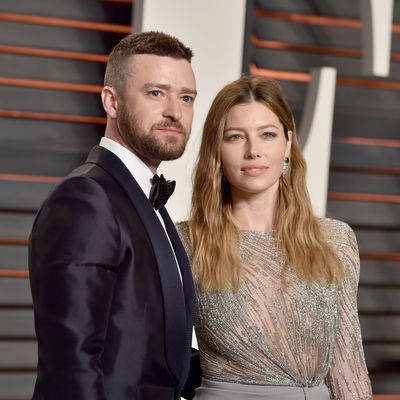 Photo: Pascal Le Segretain/Getty Images
Justin Timberlake and Jessica Biel: two beautiful people, one of whom owns an aggressively sexual fudge restaurant for kids. How much do we know about these people, really?
Recent comments from Timberlake's old friend and 'N Sync bandmate Lance Bass reveal something, at least, about how the now-married couple interacts with others. In an interview on Kocktails With Khloe this week, Bass discussed the time he wasn't invited to Timberlake and Biel's 2012 wedding.
Can you imagine, a member of 'N Sync not being invited to Justin Timberlake's wedding? But according to Bass, the couple didn't invite any of them.
"We were not [invited]," he said on the show. "And a lot of people are like, 'That is so rude,' but I, I, if you think of it this way, you'll understand why we didn't go." He continued:
"When we get together, the five of us, it is, it's a spectacle. I mean, we rarely are all five together. You know, four of us will be together, three of us, but all five, people go nuts and it's all about *NSYNC and it's just taking picture after picture and, you know, he wanted that wedding to be about Jessica, you know, and he didn't want it to be an *NSYNC reunion … But yeah, I mean, I totally understand and I respect that and I think it's kind of romantic to make it all about her, for that day. It was very thoughtful."
I think it was kinda rude.