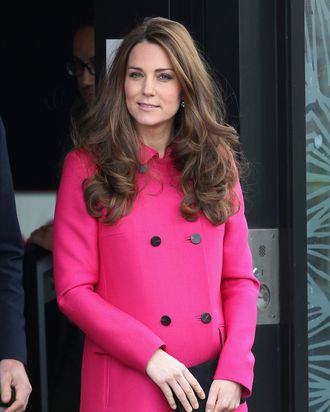 Kate Middleton, natural model.
Photo: Chris Jackson/Getty Images
Kate Middleton is many things: Duchess. Fashion icon. Mother and photographer of adorable tiny humans. Now she's also officially a magazine cover star. She'll appear on the cover of Vogue UK's June issue, celebrating its 100-year anniversary.
While magazines have run Middleton on their covers before, with paparazzi or official photos, this is the first time she has actively participated. "The Duchess had never taken part in a photography shoot like this before," an official statement from the Duchess's spokesperson said. "She hopes that people appreciate the portraits with the sense of relaxed fun with which they were taken."

The shoot, done at the Queen Elizabeth's Sandringham estate, was a collaboration with Britain's National Portrait Gallery. Two of the portraits from the Vogue UK shoot will be on display there. And despite being a newbie, Princess Kate appears to have taken to cover modeling with the same ease with which she hikes in wedge heels.