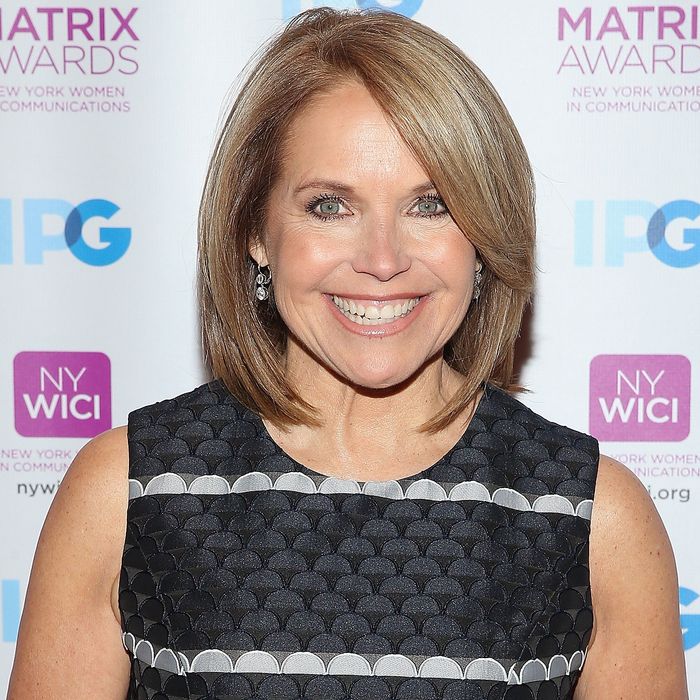 Katie Couric.
Photo: Jemal Countess/Getty Images
Perhaps the biggest television controversy of 2016 thus far has been the unexpected uncoupling of Live! With Kelly and Michael's morning darlings Kelly Ripa and Michael Strahan. Last week, Strahan announced that he would be leaving the show come September for a gig at Good Morning America. Ripa was allegedly not informed of the move until moments before the announcement hit the press; she proceeded to walk out of Live! and retreat to the Caribbean for a few days in response. (She will be returning tomorrow.)
Some media outlets have characterized her behavior as "diva-ish" and unprofessional, so when the Cut ran into television veteran Katie Couric on the red carpet at the 2016 Matrix Awards on Monday morning, we couldn't help but inquire whether she thought the "diva" stigma was justified. Would a man be similarly labeled if he pulled the same move, for instance?
You know, it's hard to say, but clearly feelings were hurt and clearly she wasn't included in the process. Transitions are incredibly tricky and they have to be managed carefully, especially when people have relationships with people on TV, they feel like they're part of their family, and so it can be extremely sensitive. And I think that Kelly is obviously the consummate professional. She'll come. If I know her, she'll be very honest with the audience because it's kind of like the elephant in the room, in the studio, right? And hopefully they'll just move forward. She'll survive, Michael will survive, the show will survive, the show must go on. And it'll all work out.
Team Katie-Kelly.