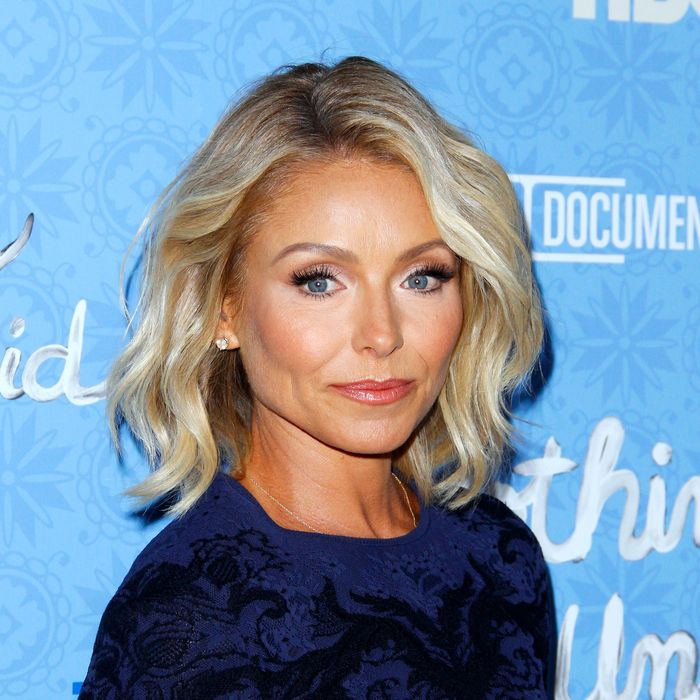 Kelly Ripa
Photo: Donna Ward/2016 Donna Ward
On Tuesday, Kelly Ripa's Live! co-host Michael Strahan "blindsided" her with the news that he is joining Good Morning America and quitting the show they have hosted together since 2012 (and which Ripa has helmed, and arguably carried, since 2001). Ripa, understandably, was pissed.
The talk-show host didn't come to work the day after the news broke, and now reps say she will be away until next Tuesday on a "previously scheduled vacation," which we like to imagine involves reading various war books, and perhaps cooling off with some yoga and belated 420 celebrations with Abbi and Ilana. In the pantheon of TV show meltdowns, this is a pretty minor one. Remember when Charlie Sheen torpedoed Two and a Half Men in a fit of expletives and tiger blood?

But the tone of the coverage has been jarring. In a piece called "How Kelly Ripa Could Pay the Price for a Diva Act," TheWrap slammed her for "having a diva-like fit of pique" when she wasn't involved in negotiations. It's "classic diva behavior," one source told the New York Post, while the Daily News declared, "TV industry insiders are ripping Ripa's 'diva' reaction to her co-host flying the coop."

"She is acting like a child, a diva and hurting her reputation with this sort of behavior," a source told the Daily News. "It makes her look bad and makes all the horrible rumors about her bad attitude off camera seem true."

Let's just go over what happened here. This is from the Times:
After "Live" ended on Tuesday morning, Ms. Ripa was called to a meeting along with the show's longtime producer, Michael Gelman, and the WABC general manager, Dave Davis (the show is produced by WABC, and it is distributed by ABC and Disney's syndication group). She did not know the purpose of the meeting.

After a 20-minute wait, Mr. Strahan entered the room and broke the news that he was leaving.
So, at the eleventh hour, Ripa gets a major bomb dropped on her regarding the future of her show, in a meeting that her co-host rolled up to a breezy 20 minutes late. Now, Ripa is going to be forced to sit through "public auditions" alongside months of bumbling sidekicks while they find a replacement for him, much as she did when Regis Philbin left in 2011 (by the way, Philbin also informed Ripa of his departure 20 minutes before announcing it live on air). Being unhappy not to know what is going on with your place of work seems … not unreasonable. But Ripa committed the cardinal sin of "being angry while female," a misstep that puts perpetrators at risk of being called shrill, bitchy, crazy, high-maintenance, ruthless, ambitious (if you're running for president), or, yes, a diva.

Oprah, ever the voice of reason, came to Ripa's defense. "Blindsided is never good," Winfrey told Entertainment Tonight. "I don't know who's in charge, but somebody should've said, 'This is gonna happen.' You shouldn't have to read it in the paper. Ever."

"Does she wanna do it by herself now? She could!" Winfrey added, which is the smartest thing anybody has said about this mess so far. "I had a co-host for a long time and I wanted to do it by myself, so I get it."

Michael Strahan, meanwhile, did not show up for the charity event he was supposed to co-host last night. But who will pay the price for his diva behavior?!