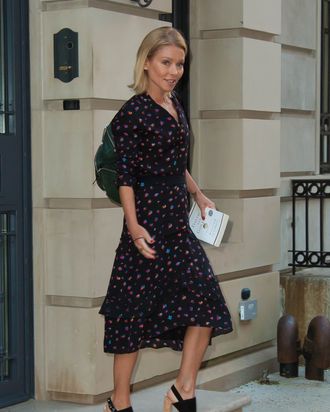 Kelly!
Photo: North Woods/Splash News/© www.splashnews.com
Ms. Kelly Ripa is ready to fuck shit up, and I love it. After ABC reportedly blindsided the longtime Live! co-host with the news of her colleague Michael Strahan's departure to Good Morning America on Tuesday, she stopped showing up to work. Today, she emerged from her Upper East Side townhouse with a message for her employer.
Upon exiting her home, Ripa flashed the paparazzi a copy of Malcolm Gladwell's David and Goliath: Underdogs, Misfits, and the Art of Battling Giants. This is the polite equivalent of leaving a horse head in Bob Iger's bed. And maybe she did that too, who knows?
According to ABC, Ripa is just taking a long weekend to celebrate her 20th wedding anniversary (which is not until May 1). She will be back on the Live! set Tuesday, prepared.
This post has been updated to reflect the fact that it was ABC that claimed (to Page Six) that Ripa was celebrating her anniversary.