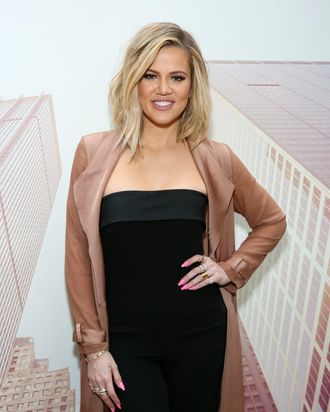 Photo: Cindy Ord/Getty Images
Khloe Kardashian, who looks great lately (although I always thought the point of Khloe Kardashian was that she didn't have to look great — she's the fun one! — but whatever), counts calories during sex now. In a post on her website excerpted by Us Weekly, she reveals that she uses a "sex calculator" to determine the intensity of her bedroom workouts:
I'm all about having fun with fitness and it's the best way to stay motivated to work out. I had my team put together a list of sex positions that burn the most calories, because what's more fun than getting down??? LOL.
LOL, I don't know, sleeping?
I even found this "sex calculator" that tells you exactly how many calories are burned between the sheets based on your gender, weight, position, style ("slow," "frisky" or "fast and furious," haha) and time frame.
Ack! I would rather lie down and die, am I right ladies???
Anyway, according to Khloe, reverse cowgirl burns the most calories and gives "your core a hardcore workout!"