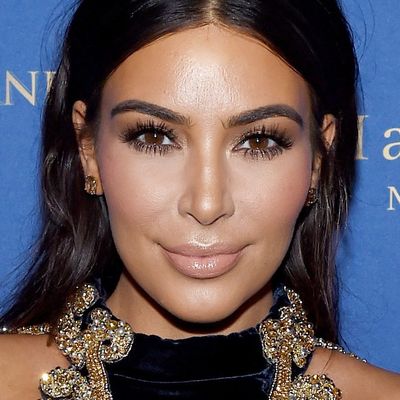 Monica Rose, Kim Kardashian's fashion savior.
Photo: BFA, Getty Images
"WHO IS KIM KARDASHIAN?"
Complex magazine asked the question in 2007, when Kim Kardashian was a sex-tape star who wore a lot of skintight bandage dresses. The magazine cover, in which Kim sits upright on a wooden table in black lingerie and heels, might have changed the course of Kardashian history. It's how Kim met Monica Rose, the stylist who threw out those Hervé Leger dresses and turned her into a potential CFDA Fashion Icon.
In a New York Post profile, Rose revealed exactly what happened after that Complex shoot: "[Kim] said, 'I'd love for you to come to my house and look at my closet, and let me know what I need to do to get on those best-dressed lists.'" Rose stopped by and threw about 30 Hervé Leger bandage dresses in the trash, she (half-)jokingly said.
Kim's wardrobe was saved (think: her Toni Maticevski organza dress at the 2009 Grammys), and Rose's career took off: Since then, she has styled all the Kardashian and Jenner women, Chrissy Teigen, Gigi and Bella Hadid, and Jennifer Lopez. She likes dressing celebs in body-con dresses, bold coats, and crop tops, mixing neutral colors or pairing high-end pieces from the likes of Balenciaga with Topshop and H&M. Her other favorites: Kylie Jenner's Levi's Wedgie Fit Jeans, Wolford bodysuits, Stuart Weitzman Nudist sandals.
After Kim met Kanye, a flurry of rumors — later dispelled — alleged that he replaced Rose as Kardashian's stylist. "Getting to watch the evolution of her style has been the most rewarding experience of my career," Rose said.