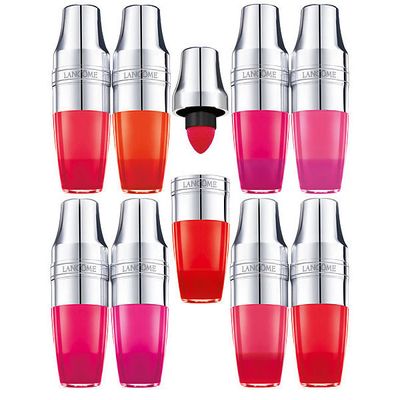 Lancôme's new juicy shaker, a lip gloss oil hybrid.
Photo: Lancome
In the beauty world, lip gloss is considered a vestige of the early 2000s. It was once poppin' (as Lil Mama rapped) to match your fruity gloss to your Juicy Couture jumpsuit to your baby-pink Uggs. But today, not so much.
Instead, try Lancôme's new Juicy Shaker, a new gloss-oil combo inspired by Korean cushion compacts. Each tube resembles a mini–cocktail shaker that you shake like a Polaroid picture (speaking of the early-'00s) to combine the two elements. Uncap the tube and you'll find a tiny lip-sponge applicator, which you dab on your lips to create a slightly shiny, sheer stain of color. The color options range from pinks to reds to blue and green, and even the blue one creates a pretty plumlike stain. 
Oh, and because the Juicy Shakers are inspired by Lancôme's cult 2000s-era gloss Juicy Tubes, they smell like that nostalgic time period when Christina Aguilera used to wear chaps.
 Lancôme Juicy Shaker, $21 at lancome.com