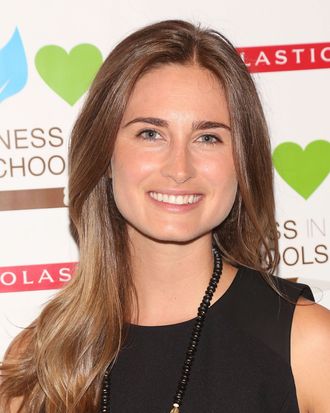 Lauren Bush Lauren wants to feed the children.
Photo: Dustin Harris/Getty Images
Lauren Bush Lauren is the CEO and co-founder of Feed Projects, a 9-year-old social business that provides meals to schoolchildren on behalf of the UN World Food Programme. She's also a former model who appeared in Abercrombie & Fitch and Tommy Hilfiger campaigns, granddaughter to former president George H.W. Bush, niece to former president George W. Bush, and married to David Lauren (son of Ralph Lauren). Until next week, Feed Projects and Clarins have partnered for the Clarins and FEED National Million Meal Mission to create Gifts With Purpose: Whenever they spend $75 or more at a Clarins counter, customers will receive a Feed gift bag and funds will be donated for 10 meals. The ultimate mission is to provide 1,200,000 meals to hungry children around the world. Here, Bush Lauren talks about her favorite new affirmation workout and reading Elena Ferrante before bed.
How I start my morning: Every day is a little different. If my baby is awake, I'll go love on him for a little while. On good days, I normally start with a workout. It could be a class or going to the gym or running outside. It varies. And then I'll definitely try to play about 40 to 45 minutes with my baby. Having a baby is a miraculous process that is life-altering in so many ways. It's amazing that your body is able to produce another human. My body and the body of other mothers — it's crazy and awesome.
I usually eat eggs — I will make myself two fried eggs with some avocado on the side. I'm not a very consistent breakfast eater. Sometimes I don't eat breakfast, but I generally always have a morning latte. I usually get it on the way to work. The Feed headquarters are in Meatpacking, so sometimes I'll stop in a local café like Cava or the Elk.
How I sweat: I mix it up for better or worse. I'm more of a "figure out the workout a day before" kind of person. If I don't plan ahead, I'll take the dog or go to the gym. I'm definitely not working out every day, but I try to do it at least four times a week.
I am up for trying new classes. One I've gotten into is Intensati — it's an affirmation workout that leaves you feeling great physically and mentally. My team and I will do that together. I also love SoulCycle, Bari, and taking the dog outside. I did Pilates this morning for the first time ever. It's a whole different kind of workout.
On my married last name: I never really thought about going as just Lauren Lauren. [Laughs] I feel like there's symmetry in keeping the Bush there.
How I define wellness: I define wellness as anything that feeds mind, body, and soul. It's not only physical but mental as well.
How wellness changed for me: As I get older, I'm more aware of myself. I love to mix it up so it doesn't get boring and I'm not doing the same things over and over again. I have a better sense of myself and what makes me feel good and replenished.
I'm also just in such a different life moment. I started modeling at the end of high school. I was on the tennis team, on the track team, and playing volleyball. I wasn't as regimented. But I quit modeling like ten years ago. Now, I have more discipline. I know my body and what kind of workouts I gravitate toward and need to recharge and feel great — a lot of which involve sleep.
I also wasn't cooking for myself. Now I love to cook and try to keep only healthy food around. I'm not tempted to snack on too many sweets, but I do allow it. I have a kid, a baby. I have my own apartment with a fridge and a stove. I'm a little more in control. And that goes for skin care, working out, and making sure I have mental recharging moments.
On sleep: Sleep is one of those things that, in college, you can go without. That's a big piece of wellness for me, making sure I get as much sleep as I can, which is a whole new thing for me. Baby aside, I try to get eight hours, if not at least seven. I notice a difference when I can't get that. For me, I like to unwind before I go to bed so that my mind is actually turned off from the phone and electronics. In the last few years, I've been trying to be better. I've been really disengaging — reading a book is a good way to turn off the mind and lull into a sleepier state. I get a better a night's rest. I've been reading Elena Ferrante right now — I'm on the second book.
How I eat when I'm alone: I really eat a lot. I'm less picky when it's just me. I'll make an omelet for dinner or something simple. I grew up in Texas, but it's harder to find Tex-Mex in New York. I've been to Javelina, which has really good, really good queso. They've nailed it. I'll go to Dos Caminos for margaritas.
I also try to cook a few times a week. On weekends, I'll do an Ottolengh- type recipe when I have time to go shopping. I'm a vegetarian, so generally I can just go with a stir fry, which is vegetables, tofu, and rice. I'll also do simple salads and veggies.
My wellness struggle: Finding enough time in the day to take care. Obviously, we all wish we could work out more, sleep more, and spend more time with family.