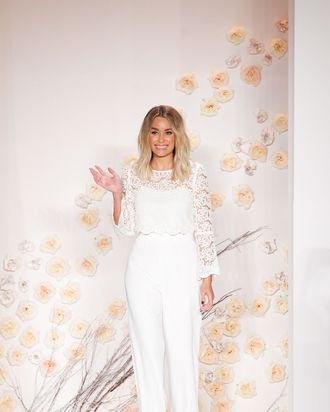 Photo: Thomas Concordia/Getty Images
In the mid-2000s, Lauren Conrad starred in the popular MTV reality programs Laguna Beach and The Hills. In the late-2000s, she transitioned to the role of fashion designer, slapping her name on bold statement necklaces and reasonably priced headbands for Kohl's. Ms. Conrad's current occupation, however, seems to be naming her favorite colors out loud to anyone who will listen.
Last year, she told the blog Cupcakes and Cashmere her favorite metallic hue was rose-gold (a lie). Today, she expressed, to people.com, an appreciation for a different color. Can you guess what it is?
It's white.
In the interview titled, "Exclusive: Look Inside Lauren Conrad's Stunning All-White Kitchen," L.C. revealed, "I prefer kitchens to be white because I think they just look clean." After that, she said even more words on the topic.
Why does Lauren Conrad like the color white (for kitchens)?
"I just like the brightness. It's sort of the same reason why you want to serve food on a white platter — it serves as such a beautiful backdrop."
What did she do to the kitchen in her Pacific Palisades, California, home?
"I just whited the whole thing out immediately!"
And what's the thing about kitchens (according to Lauren Conrad)?
"The thing about a kitchen is everyone always ends up there. If you have drinks and food in the kitchen, they're not going to be anywhere else. It's kind of funny that way."
Sure is.
This has been your update on Lauren Conrad's favorite colors. Everything is all white.