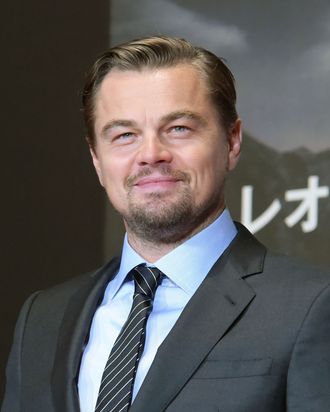 The 41-year-old actor known as Leonardo DiCaprio.
Photo: Jun Sato/Getty Images
Leonardo DiCaprio, the Oscar-winning leader of an adult-male friend group called the Pussy Posse, typically dates models. Last we heard, he was dating a 19-year-old Victoria's Secret Pink model named Chelsey (a crime). But today is a new day, and "Page Six" reports that Leo has been spotted in New York City with a new person: a 24-year-old British model named Roxy.
Leo took her out for ice cream, which is appropriate. According to "Page Six," the two were spotted at Serendipity 3, the preferred date spot of NYU freshmen in 2008:
Leo DiCaprio was at Serendipity 3 on Sunday with his reported current model of choice, Roxy Horner. Spies said the Revenant star arrived at the eclectic eatery with Horner, best pal Lukas Haas and another blonde.

'The entire party was in baseball caps,' said a spy. 'They tried really hard not to be recognized. Horner didn't leave DiCaprio's side.'"
This is the second time Leo has worn a baseball cap in recent weeks and the 436th time he has been seen with a woman born in 1992.