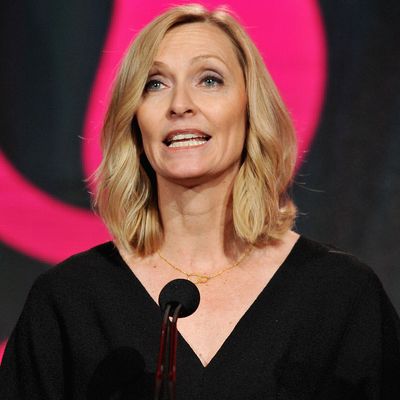 Photo: Jerod Harris/Getty Images
Lifetime, a network long derided for its over-the-top campy dramas, is set on changing that perception with an extensive rebrand.
Executive VP Liz Gateley, speaking to The Hollywood Reporter, said those decisions came out of a comprehensive research study of 500 women across all demographics. The main results Gateley took into account were that "it's still challenging to be a woman in America," and "the women surveyed often turned to TV for strength." So instead of relying on the "women in peril" model, the network will be putting women at the forefront of their own stories.
Lifetime has already appeared to be slightly more self-aware, what with last year's breakout hit UnREAL and the Will Ferrell and Kristen Wiig–helmed made-for-TV-movie A Deadly Adoption.
Along with an UnREAL spinoff, the new programming slate includes offerings from Selena Gomez and Ronda Rousey. The riotously funny (and delightfully vulgar) comedy Catastrophe is also coming to the network from Amazon in 2017.
There are a variety of drama and comedy series and a few movies to boot, namely a "Serena Williams–produced movie inspired by the annual dance-off she hosts with sister Venus." And on the digital shorts side, Gateley called Amy Schumer's "Last Fuckable Day" sketch her "north star," so that's promising at the very least.
And yet, there is still some trepidation about how well this will stick. Lifetime went with pushing the term "fempire" (as in: "Welcome to the Fempire") to describe their new branding, rather than outwardly name-checking feminism, because of the worry that the latter would alienate older viewers. "What feminism means for millennials is simply equality," Gateley told THR. "But what we wanted is a word that [all ages] would hear and not have to fear it meant we'd be preachy or earnest with our fists in the air."