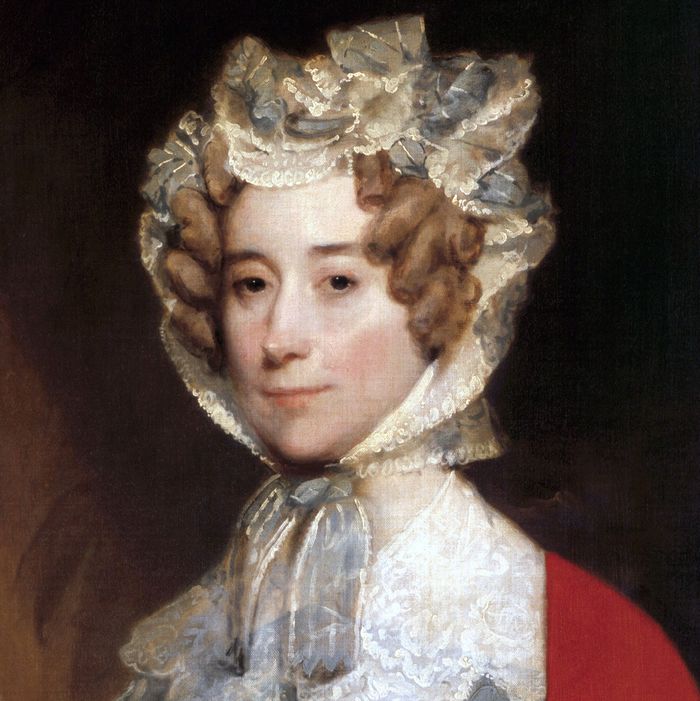 Louisa Catherine Adams, wife of John Quincy Adams.
Photo: Corbis
At the very end of a leather-bound composition book — after the journal she kept from 1819 until early 1824; after the memoir sketch, "Record of a Life," which she wrote in the White House; after the anguished lament she wrote about the death of her son — Louisa Catherine Adams scrawled a few recipes for "cosmeticks." The process of making face powder required a pound of rice, fresh spring water, and a thin sheet of lead; it took more than a month. Lipstick was easier: "a little Brazil wood and white vinegar boiled a minute or two." For rouge, "cambric muslin dipped in pokeberry juice and dried is a harmless preparation."
Harmless. It was a curious choice of words. In those days, makeup (or "paint") was incredibly controversial, as Louisa knew well. Senators studied the flushed cheeks of her predecessor, Elizabeth Monroe, for signs of rouge, whispering that the high flush of her cheeks was evidence that she was too aristocratic, too influenced by European courts. A false blush suggested false modesty. By Louisa's time, makeup had become more socially acceptable than it had been a half-century before, when an act had been introduced into parliament — which controlled the colonies — stating that "all women, of whatever age, rank, profession, or degree, whether virgins, maids, or widows" who might entice a man into matrimony by use of "scents, paints, cosmetic washes, artificial teeth, false hair, Spanish wool, iron stays, hoops, high-heeled shoes, bolstered hips" shall incur the penalty "against witchcraft and like misdemeanors." But in the early republic, it still carried a taint. Ministers preached sermons against it. Ladies' magazines were conflicted, running instructions for compounding cosmetics — Louisa seems to have gotten hers from Mrs. A. S. Colvin's Weekly Messenger — but also allegories about how the best recipe for a good complexion was a moral life.
Beauty was supposed to be pleasant, natural, and chaste. Artifice was deceitful; sexuality was corrupted power. For a young woman, it was necessary to be pretty, but it was equally necessary to be unaware of it. Growing up in London, Louisa was taught those skills that were thought to make a woman more alluring: painting, singing, dancing, a smattering of bad French, and embroidery, which was called "work." Once she was introduced to society, she was expected to find a husband. But she was not supposed to try. This led to some difficult mental gymnastics. "In my own eyes I never possessed beauty," Louisa later wrote, but, "strange to say," she was "familiarized to the idea of possessing it." She was encouraged to expect a man's attentions and accept his proffered verses, but also to be "very much surprised" when he compared her to a cherub.
One of the men who came to visit was a young American diplomat, John Quincy Adams, the son of the vice-president of the United States. After several weeks of demurrals and expressions of innocent confusion, she acknowledged his courtship. They flirted and bantered. She teased him for his unfashionable clothes. One day, he joined her for a walk very "handsomely dressed in blue," wearing the hat in style. When she complimented his appearance, however, "he immediately took fire, and assured me that his wife must never take the liberty of interfering in those particulars."
The reverse, of course, would not be true.
The problem arose a few years later, in Berlin, where John Quincy was a diplomat, when Louisa tried to wear rouge. The Queen of Prussia, whom Louisa adored, had given her a box after seeing how the blood drained from Louisa's face when she was to told to begin a dance with the king. Louisa knew that her husband would never let her accept it, and she tried to protest. The queen, however, was persistent. "She smiled at my simplicity, and observed that if she presented me the box he must not refuse it," Louisa later wrote, "and told me to tell him so."
Louisa hid the gift away until the masked balls of Carnival. The custom was for a woman to wear a black dress with deep décolletage, a black Spanish hat, black shoes, and black feathers — a stunning look if you could offset the dark cloth with flush cheeks and the glitter of diamonds, but a difficult look if you couldn't. Knowing that a black dress made a pale face "look cadaverous," and tired of feeling "a fright in the midst of the splendor," Louisa brought out the forbidden rouge. When it was time to leave for the ball, she rushed past her husband, calling to him behind her to put out the lights. He sensed something suspicious in her quick step and stopped her before she went down the stairs. When he saw the blush on her cheeks, he led her to the table and sat her on his knee. He picked up a towel, "and all my beauty was clean washed away." That winter, 1801, Louisa tried to wear the rouge again. This time, instead of trying to sneak past her husband, she walked "boldly forward" to him. John Quincy told her to wash the makeup off, and she refused "with some temper." He turned on his heels, went down to the carriage, and left for the party without her.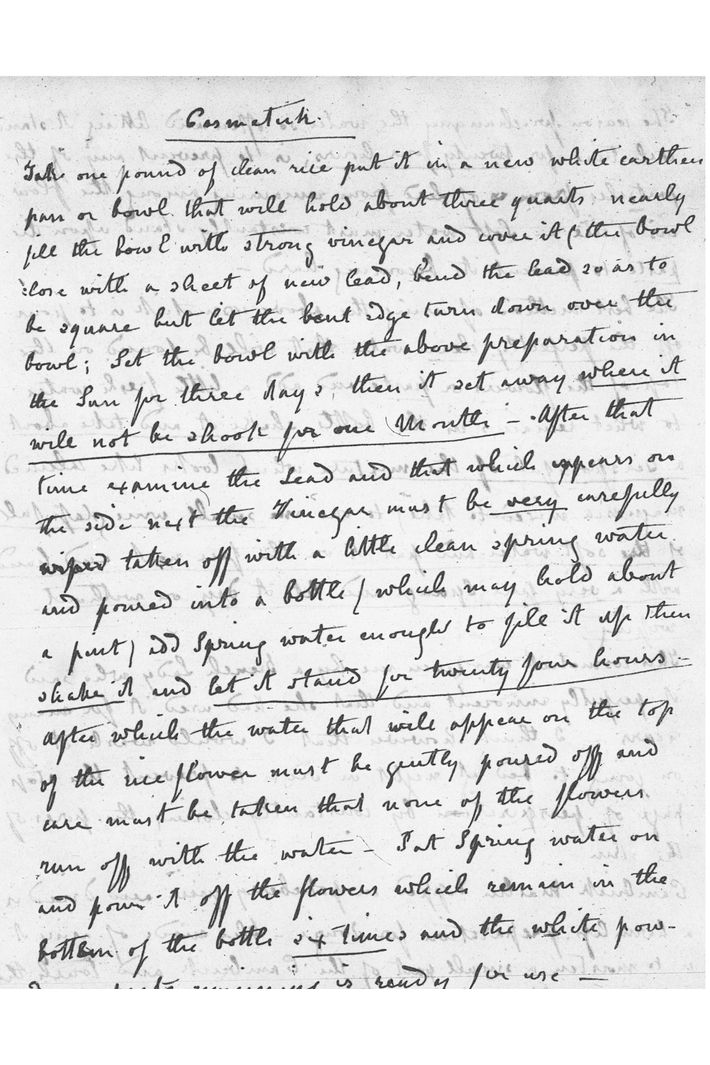 It was only a little makeup. Behind it, though, were serious matters, the most pressing of which had to do with the queen herself. John Quincy could respect the king well enough, because the king was trying to remain neutral between France, Great Britain, Russia, and Austria, and because the king rose at six in the morning and famously disliked parties, and because power came naturally to worthy men. But the queen made him uneasy. She knew her appearance and used it, and she had a frank willingness to command. She tried to command even him. "If she presented me the box he must not refuse it," she had told Louisa.
Six years later, the Prussian army was crushed by Napoleon at Jena. When Queen Luise went to make a personal appeal to the emperor, she was mocked: Napoleon responded to her pleas of mercy on behalf of her country by inquiring about the fabric of her dress. John Quincy took some pleasure in her fate. "The vicissitudes of the world have reached many of our old acquaintance there," John Quincy wrote to Louisa, thoughtlessly — or pointedly — telling her the news of Prussia's defeat, "and the beautiful and thoughtless queen whom we were accustomed to see so splendid has been brought to dance something less delicious and more vivid than a waltz."
But for Louisa, Queen Luise was something of a role model. They shared more than John Quincy would like to admit, including an awareness of the power of appearances. Like Queen Luise, Louisa understood the social forces that bound civil society. And like Luise, she used them to get what she wanted.
What Louisa wanted was for her husband to become president — though this was not an uncomplicated desire. "The exchange to a more elevated station would put me in a prison," she wrote before her husband was elected. It was further complicated by the fact that John Quincy himself refused to admit that he was pursuing the presidency. "Electioneering" was a dirty word, especially to him. So any efforts had to be concealed, from the public and from his conscience. Fortunately, he had a wife.
Presidential hopefuls were not supposed to stump; they did not travel from town to town, promoting their platform and shaking strangers' hands. Instead campaigning happened in small conversations and coded letters and at the dinner table, in a casual comment on the rivals, with a good glass of Madeira in hand. A woman, a hostess, could play an important subterfuge. She might help the pretense that no campaigning was happening, since politics were not permitted in mixed company. She could serve dinner with éclat, put people at ease, and spice the conversation with the wit that obscured the politics in political discussions. She provided the cover — the artifice.
While John Quincy earned the reputation of being unapproachable, cold, and aloof, Louisa became the dominant hostess of the day. There were weekly dinners, a few grand balls, and a series of parties, Tuesdays at Mrs. Adams, that kept the bright light of attention on her husband, while he sat in the corner, appearing distracted, badly dressed. She visited Congress to watch the debates, she read the newspapers, she advised John Quincy — and she denied any knowledge of, or interest in, or involvement in politics. She called her parties "my campaigne."
Given the dates of the composition book she used, she wrote down those recipes for cosmetics around that time. There's no evidence of how often she wore the makeup, or even if she ever did at all. There's also no record of what she thought about it. It may be that she copied down those recipes on a day when she glanced in the mirror and saw her age in the reflection. After all, she described a portrait of herself from that time as a woman who has just felt "the first chill of death." Or maybe she was conscious of rebelling against her husband, two decades after he had washed the blush from her cheeks. It may also be that she did it in the awareness that a powerful woman had to wear a mask.
Perhaps she had more than one motivation. After all, makeup is never superficial. It is always expressive of some desire, which it conceals and which it reveals.