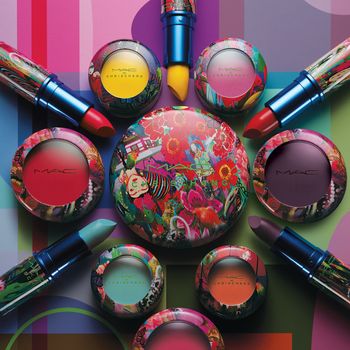 Chris Chang x M.A.C.
Photo: Courtesy of MAC Cosmetics
What do you get when you take Chris Chang, the Chinese fashion designer known for her bright and prismatic frocks, and give her a M.A.C collection? In the words of M.A.C, you get "an acid-soaked twist" on makeup. For the collaboration, which launches next week, Chang delivered a multicolored journey into beauty. Sure, there are yellow and blue lipsticks, but she challenges you to take the makeup a step further.
"Instead of having just the eye shadow on the lid, maybe it's on top of the brow; maybe it's over the brow; maybe it's like a spot over the eye," she says. Chang talked to the Cut about the appeal of confident women, her take on being a "man repeller," and how even the minimal makeup consumer can have fun with her line.
What was the thought process in putting the collection together?
It really took all of five minutes to put this together. When the chance for this collaboration came about, it was like a dream come true because M.A.C and I have always had the same idea for strong, independent, individualist women. I immediately went to the theme of Kunqu madness. Kunqu is the oldest form of performance art in China. It's an opera combining poetry, dance, and acrobatics. Kunqu has a really specific look. It's very exaggerated, colorful, and always elaborate, so it's very in line with what I do and the type of women that M.A.C caters to.
The colors came to me really fast. In terms of how to wear the colors, my art and my fashion have always been about maximalism. I'm about throwing everything together. I find sereneness in chaos. This has been essential to all of my work — it's maximum impact, maximum effect. For example, if you wore a mauve lipstick, you would probably do a blue or pink eye. I envision it like war paint. It's a new way to wear colors. It's artistic and it's abstract.
I think people are drawn to those who are confident enough to think outside of the box. Instead of having just having the eye shadow on the lid, maybe it's on top of the brow; maybe it's over the brow; maybe it's like a spot over the eye.
I started working with M.A.C on this project three years ago. Three years ago, yellow and blue lipstick was not even available in the market, so that was very avant garde at the time, but now you can see some of these more wacky colors in the market. All together, there's innovation and history in it. It's a mixture of past and future.
How do you suggest someone who is used to minimal makeup approach your collection?
I think trying a new color on the lips is always easier. You can use this makeup sort of as the focal point of your whole look. You can wear something that's minimal, maybe all in khaki or all in neutral, but you've got this color going on your face, and that's another look.
I think women have to get rid of these ideas that, for example, yellow isn't good on skin. That happens a lot with Asian women. They're very biased to colors. They tell themselves, "Green never looks good on me; red never looks good on me," and I think that mentality needs to be broken up first for you to enjoy fashion and enjoy being a woman. Fashion and makeup is what makes being a woman exciting.
I hate the word "man repeller," which is something that's used in fashion. I think that's something I've always done — I don't dress or do makeup or do my hair in a way that I think will be appealing to men. And just not having that idea in my mind has given me freedom in dressing, because I don't care what men think. I'm open to this cool world of bringing art into life, and I think women should try that. They should try something different.
The packaging is so beautiful. Can you explain it?
It's a collage of icons and things that I've been obsessed with since I was a child, like creepy dolls, bugs, butterflies, chameleons, lanterns, Kunqu figurines. The thing that took the longest was the names because each SKU has an interesting name, which is one part Chinese and one part Western. I wanted to keep that one element essential — it's a mixture of past and futuristic; East and West.
This interview has been edited and condensed.