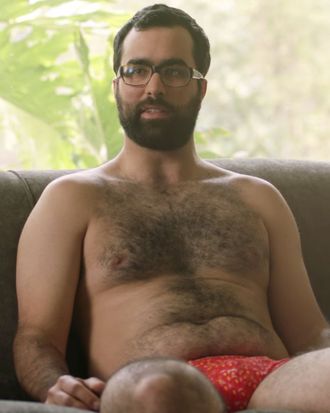 An unretouched man.
Photo: Aerie
Last week, American Eagle seemed to launch a companion to its no-retouching real-model women's underwear campaigns called #AerieMan, dedicated to celebrating the diversity of male bodies that are already celebrated regularly. Yesterday it was revealed via a slightly awkward press release from American Eagle that #AerieMan was in fact a gentle parody of the original #AerieReal campaign.
The company referred to the brand in the same vein as their "rebranding" as American Beagle. "We aren't afraid of being bold in how we engage our customers, whether through a video that makes you think twice, or challenging the norm in how a brand markets to men," a representative noted about the #AerieMan campaign. "We are an all-inclusive brand and we know our male customers respond to humor." Denizens of the internet went into their typical outrage mode, ripping American Eagle for the implied joke.
But if you were worried that men would have nowhere to look beyond network sitcoms, Apatow films, and, well, pretty much everywhere for examples of body diversity, have no fear. American Eagle has also reiterated that it will be following through on its plan to not retouch men in their holiday-season ads.