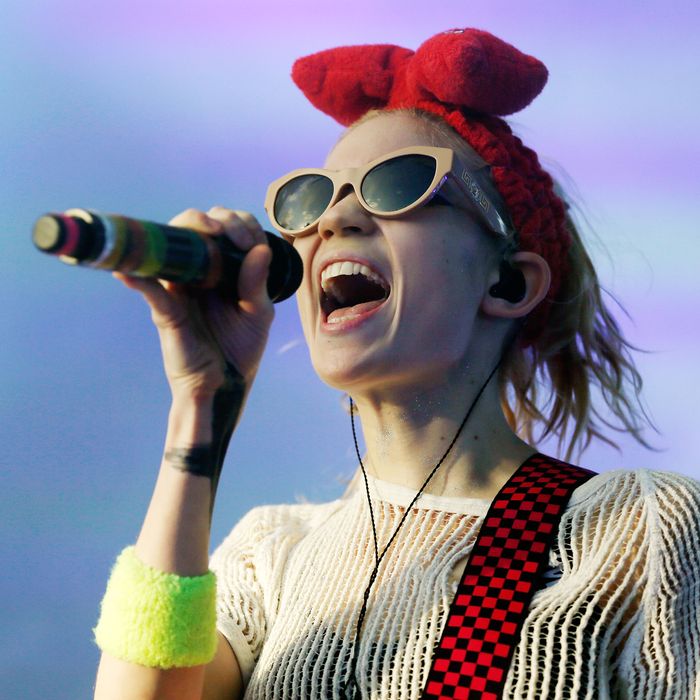 Photo: Zak Kaczmarek/Getty Images
In a new interview with Rolling Stone, Claire Boucher, a.k.a. art-pop synth queen Grimes, spoke about the still-pervasive sexism in the music industry, especially as she's seen it in relation to the sexual assault lawsuit Kesha lodged against her producer, Dr. Luke. Grimes, who has historically produced, written, and performed her own music as a one-woman band, says that she's experienced all kinds of heinous men in the music industry:
I don't know enough about the specifics of that situation, because it seems very complicated. But I will say that I've been in numerous situations where male producers would literally be like, "We won't finish the song unless you come back to my hotel room." If I was younger or in a more financially desperate situation, maybe I would have done that. I don't think there are few female producers because women aren't interested. It's difficult for women to get in. It's a pretty hostile environment.
Luckily, Grimes learned an important lesson from Shawn Carter, who signed her to Roc Nation in 2013. "He told me to stop apologizing so much. It was very difficult," she explained. "Canadians have to say 'sorry' all the time. That's actually really good advice."