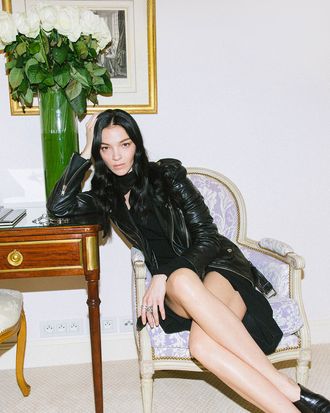 Mariacarla Boscono knows how to fix your stressed-out hair.
Photo: Courtesy of Redken
Mariacarla Boscono has seen and done it all. She's a friend to Riccardo Tisci and a muse to both Givenchy and Redken. Models come and go, but her career has endured for 20 years; she's even brought her baby into a Givenchy campaign. Here, she talks to the Cut about walking the McQueen runway blinded by hair, her favorite French pharmacy finds, and why she always packs five cases of beauty products.
You've talked in interview about a new Mariacarla. Who is the new Mariacarla?
There's a new Mariacarla because I'm in a place where I feel more comfortable. Modeling now is more about who I am, rather than becoming someone else. I'm more brazen with what I do. I feel very comfortable in my shoes. I pick and choose what I want.
My work with Redken really represents me. I also love Guido Palau. Every single job that I choose, especially with them, it's really about me.
Do you remember the first time you worked with Guido?
Oh my god, yeah. Back, back, back in the day. I think I was like 17 in London at Alexander McQueen and it was that show with wooden-leg woman [Aimee Mullins, from Spring 1999]. I had a cat suit and he did the hair in my face. I said, "I'm not going to see," and he said, "I don't care." So I said, "Thank you." But it was good for the looks.
What is your beauty routine like?
For what I do, because my hair gets stressed out, I almost have to wash it every single day. So Redken's All Soft line really helps me a lot. I also use leave-in conditioner from the line. Otherwise, for makeup, I always just wash my face, use a mask, and go in the steam room — easy.
I read that you carry around five bags of skin-care products. Do you still do that?
Yes, five beauty cases. I really believe that switching products is important, especially for skin. I'm switching from day to day. If I'm tired, if my skin is dry, if I have a pimple, if my hair has been overworked, I will do something different.
I use a lot of French pharmacy products. I use Avene Tolerance, it's easy and all water. I go to the dermatologist a lot. I'll do PRP to block things. They take your blood and an injction. It's good because it doesn't change your face. It's not like Botox. It really helps. I use Bioderma Crealine for face-makeup remover. I buy a lot of those incense papers you see in French pharmacies that you burn, and it's a good smell.
What do you do on the rare occasion that you have a pimple?
I stay in bed. Cover-up. Makeup. [Laughs.] I cannot do much more.
How do you feel being a model has affected the way you see beauty?
With the way that I am, I had to step into the modeling industry and be recognized as a beauty. It's a bit like with Kate Moss. My look survived every period. There were the Russians, the Brazilians, and the English. But I always worked. People like me, like Karen Elson and Soo Joo, we're a very specific woman with a very specific look. I think that's also why we last longer. There's no one else like us.
Imagine you are me, working with Guido. We've worked together for how many shows, how many years, how many different looks? When you work with people who are so eclectic, you have to learn to feel comfortable in every single way. Modeling helps a lot with a lot with beauty because some people are like "I can't have a ponytail, I can't have my hair cut." I had my hair bleached: nothing. Short, bangs, I've done everything. I'm up for change, and I've had to present it to the world as beautiful. In modeling, I had to learn to like myself, to love myself, to feel comfortable. 
What do you do for exercise?
Not much. [Laughs] I used to, before I had my child, swim a lot and do Bikram yoga, but it's very difficult being a model and a mom, so I don't have a lot of time for myself. That's how I lost my voice.
What do you think of Instagram and modeling?
I don't use it much, and I don't use it for business. But I think it's nice to keep in touch with people that you know and people that are curious. I feel like there's a lot of love around, so I like it. I don't have a lot of people writing horrible stuff to me — I feel lucky.
This interview has been condensed and edited.