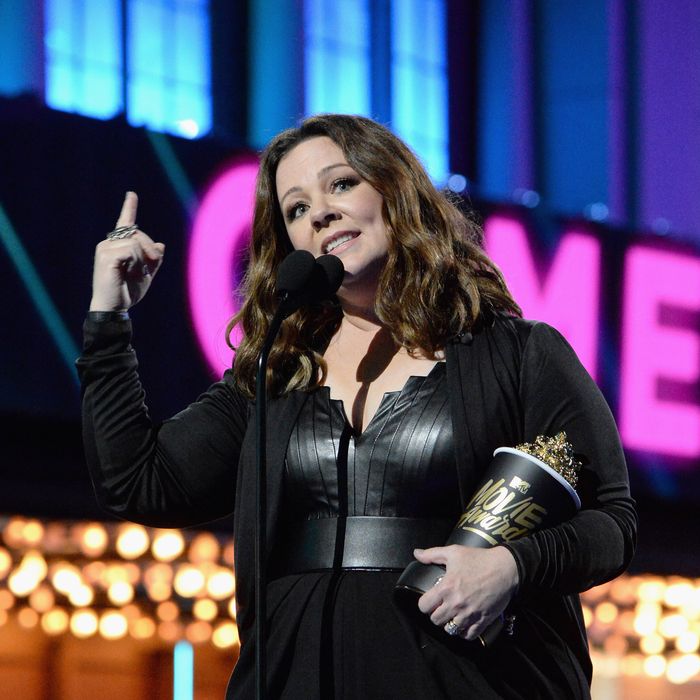 Melissa McCarthy. Photo by Kevin Mazur/WireImage for MTV
When Melissa McCarthy became the first woman to win the Best Comedic Genius Award at the MTV Movie Awards Sunday, she basically gave the entire roll call of my lady-hero lineup. But the highlight of McCarthy's speech is her mother, Sandy, whom I used to primarily admire because she calls the casino "church." No surprise, she was also a really solid influence on her daughter (just like all of my surrogate moms below):
"In all seriousness, I may be the first woman to win this award, but I am …  certainly, certainly not the first one to deserve it. I don't know —  I think I'm a walking human patchwork of all the remarkable, funny women who I have loved and studied over the years, and I am only here because Carol Burnett, Jane Curtin, Phyllis Diller, Whoopi Goldberg, Teri Garr, Madeline Kahn, Lucille Ball, Gilda Radner, Julia Louis-Dreyfus, Diane Keaton, Tracy Ullman, Bette Midler, Lily Tomlin, and my mom …  who taught me not to fear being the butt of the joke, taught me not to worry about being likable or perfect, and to lovingly go for the kill."
All right, well, this speech name-drops only the best people while slipping in some quality advice. Somewhere, Lucille Ball is one proud matriarch.