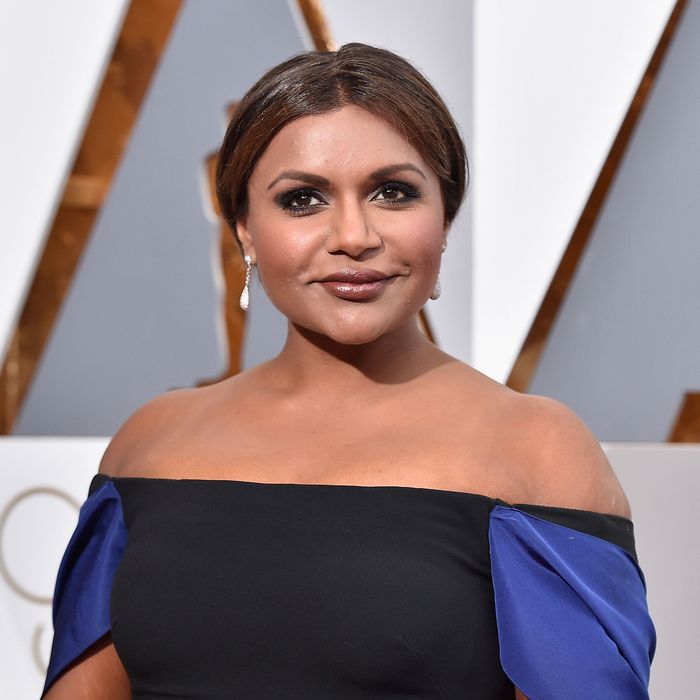 Mindy Kaling.
Photo: Kevork Djansezian/Getty Images
As the creator, executive producer, writer, and star of her hit show The Mindy Project and the author of two best sellers, Mindy Kaling is definitely a boss. But at the Women in the World Summit in New York on Thursday, she talked about the challenges of being a woman in charge.
Like a lot of women, "I am very decisive, but I also care what people think of me." So how does Kaling fight the instinct to be a people pleaser so she can get what she wants? By leaving the room. Before she begins wavering and making room for compromise, she exits. Hmm, might have to borrow that one.
For those who are put off by your resolve, Kaling suggests sending sweets. "My whole thing is, I'm very assertive, even to the point of being brusque, and then I'll just send cupcakes with a note that says, I'm sorry that I was so assertive. Love, Mindy."
Not into cupcakes? Don't worry. According to Mindy, there's an "entire cottage industry" of apology gifts you can send. If flowers don't work, "You can send a puppy party for demanding respect. I'm sorry I demanded respect at that meeting. Here's a puppy party. Love, Mindy."
Or maybe they should send you gifts for not respecting you in the first place.