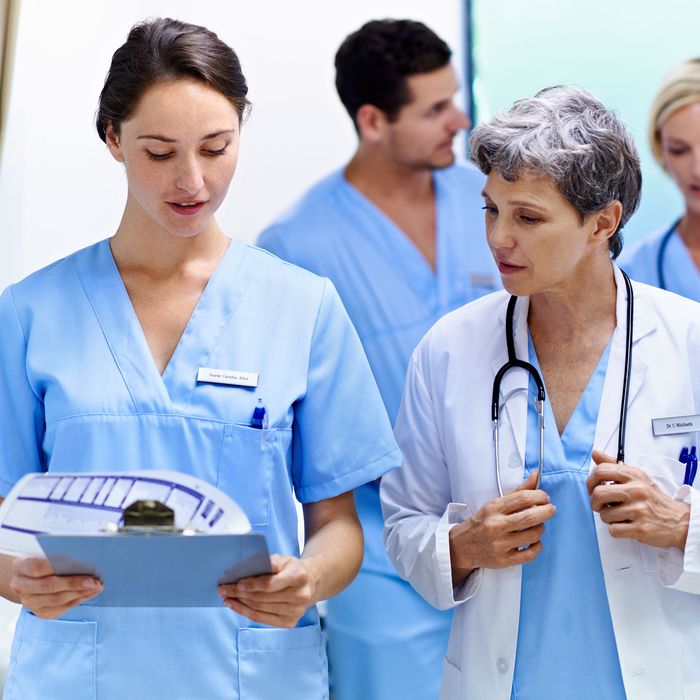 Photo: kupicoo/Getty Images
Laws that target abortion providers under the guise of protecting women's health have left women with fewer clinics nationwide. The number of abortion clinics in the United States peaked in 1982, but had fallen by 40 percent by 2005, according to the Guttmacher Institute. In the past five years alone, there's been a net loss of 140 providers.
Now, Reuters reports that two training programs that teach reproductive services including contraception and all types of abortion to doctors and med students have grown in recent years, thanks to increased private funding and demand.
Residency programs in obstetrics and gynecology are required to offer this training, but not all of them actually do. That's where these groups come in. The Kenneth J. Ryan Residency Training Program (part of the Bixby Center for Global Reproductive Health at the University of California, San Francisco) has introduced or expanded abortion and family-planning training at 31 more teaching hospitals since 2010, for a total of 85. Another program offered by the nonprofit Medical Students for Choice has seen a spike in applications: 321 so far this year versus 228 in all of 2015. Together, these groups instruct more than 1,000 medical residents each year. They both receive private funding.
Uta Landy, who operated one of the first abortion clinics after Roe v. Wade, founded the Ryan residency in 1999. She told Reuters, "The more controversy there is, the more motivation, commitment and passion grows and responds."
It's great that the number of doctors trained in family planning is growing, but these doctors tend to work near the hospitals where they received their training, which makes for a disproportionate number of providers in and around cities, and not as many in rural areas. Some doctors go to extra lengths to improve access.

Bhavik Kumar, M.D., went to med school in Texas but did Ryan residency training in New York so he could provide abortions in his state. He now travels more than 2,000 miles per month. Dr. Kumar told Reuters that political attacks on the right to choose are a burden for women but also for doctors who are increasingly being told how to practice medicine.
"Rights are being taken away from not just patients but us as well," he said. "A lot of us are angry. We're trying to get back what the opposition has taken."