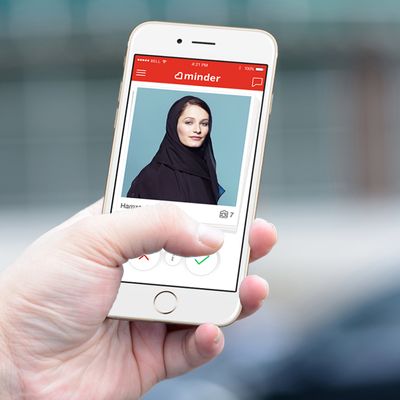 Minder, Ishqr, and a host of new Muslim dating apps.
Photo: Getty Images
When Humaira Mubeen graduated from college in 2012, she fumbled around for a place that felt true to her. A pop-culture-and-tech-savvy millennial with liberal values and a strong attachment to her Islamic faith, she's a hybrid of different identities. But then she discovered a group of like-minded friends on a tiny listserv called "Mipsterz" — Muslim Hipsters — and began to create a community of her own.*
"The listserv started as a joke," she says — but it soon became much more. "Everyone was super open-minded. We talked about everything. There was a lot of dialogue about relationships: How do you go about finding someone who is like you?"
A year later, those conversations led Mubeen to create the website Hipster Shaadi, its name playing off the Indian matrimonial site shaadi.com, a favorite platform of immigrant parents wanting to fix up their American children with nice Muslim prospects back home. For millennial Muslims of South Asian extraction, Shaadi — with its tone-deaf profiles in awkward English and requests for "wheatish or fair complexions only" — is usually invoked as a punch line.
But when sign-ups flooded in, Mubeen realized that her "lighthearted, jokey" personal project, with its sweet mustachioed logo, had become a mecca for modern, hybridized Muslims like herself. Last May, her team released an iOS version of the app called Ishqr, billed as "a platform to connect young and multifaceted Muslims."
Ishqr joins a host of new Muslim dating apps. They include Halaler, Muzmatch, Salaam Swipe, Half Our Deen (after the Koranic verse "When a man marries, he has fulfilled half of the deen," deen being Arabic for religion), Muslima, Crescent, and Minder. With around 67 percent of American Muslims under the age of 40 and the Muslim portion of the total U.S. population projected to double by 2050 (it's currently 3.3. million, according to Pew Research), this slice of the American pie is growing increasingly vibrant. For its members, many of whom grew up in small towns with few Muslims, dating apps help solve the problem of how to find each other.
Twenty-six-year-old Amer (his name and some others in this article have been changed) is from an Indiana farming community home to just eight Muslim families. It wasn't until college that he was thrown in with other Muslims his age. But the first girl he dated was so socially conservative that their relationship had to be kept strictly "on the DL." It was stressful, and things didn't work out.
Unfortunately, his college town's tight Muslim community yielded a dearth of prospects: "Everyone was either engaged or married, or too young for me." But, in Minder, a swipe-right-or-left app described as the Muslim Tinder, he found the connective medium he needed. After a couple of months of matching and messaging, he swiped right on Virginia-based Leyali. They progressed from messaging to texting to phone calls and FaceTime dates to a coffee date in Ohio — and strong feelings soon developed on both sides. The rest is history: After a brief period of "halal dating" (defined by Amer as "dating for the purpose of marriage"), Amer and Leyali married.
Haroon Moktarzhada, a dot-com veteran who co-founded Minder, explains the app's appeal this way: "If you're a Muslim limiting yourself to dating Muslims, your pool is small — mosque, school, and work friends. You meet two or three people and marry one of them instead of taking the time to meet many people and get an understanding of what you like. Minder is a platform to do that."
He adds that he's seen a lot of divorces among young Muslims who "rushed into something" after meeting a promising prospect and feeling family pressure to close the deal.
"In America, the expectation of what a marriage is is very different than in more traditional, conservative societies," he says. "One of the things we tried to do with the app is be unapologetically progressive." With this view, Minder requires profile photos (Ishqr hides pics until a match has been accepted) and avoids restrictive religious features: "We didn't want it to be a religious thing. I'm on an actual mission to create a culture shift around what's considered appropriate."
The story of Bliss Marriage App — a "halal dating app" with the tagline "The right person for you can be a mosque away" — is also instructive. Originally marketed with a "guardian" feature that required a family member to be carbon-copied on messages between users, Aneesa Memon, the app's 26-year-old founder, says the feature wasn't included in the app's final release because "it became apparent that it wasn't necessary. Partners could determine for themselves if their families would approve or not approve."
Bliss is currently on hiatus (Memon says it found more traction in the Middle East than in the U.S.) but Minder 2.0 will be released later this year, and Ishqr is partnering with therapists and clinicians to build knowledge and resources around relationship issues specific to American Muslims. Both Moktarzhada and Mubeen see the stigma around Muslim dating slowly eroding: Minder boasts more than 100,000 users and 1.8 million matches, while Ishqr takes credit for six marriages and 18 engagements.
Still, online dating comes with the usual pitfalls. In a very funny monologue performed at a Muslim Writer's Collective open-mic event in February, 27-year-old New Yorker Nadia Iqbal describes the string of feckless suitors she encounters in her quest to find a Muslim mate. In a bit that brings the house down, she lampoons one digital Casanova who tries to lure her with the promise to treat her "like a princess":
"Inside of my head, I was like, that sounds awful! What are you going to do, lock me in a tower? Curse me with eternal slumber until an interested man kisses me? Allow the paparazzi to invade every aspect of my life until it ends in a car crash that kills me? Burn out my candle at age 39? I was like, Nah, dude, I've got shit to do. I ain't got time to be treated like a princess."
For multifaceted Muslims like Nadia —progressive, independent-minded, open to other lifestyles and worldviews, and fiercely attached to their own free will — it's all part of the process. She knows that modern romance requires that you kiss a few proverbial frogs before you match with the right person.
"Apps are just another way to meet other people," she says. "I've gone on some terrible dates, but they've made for great stories."
*This posted has been corrected to show that Humaira Mubeen was one of the first members of the Mipsterz listserv, but was not a founder.