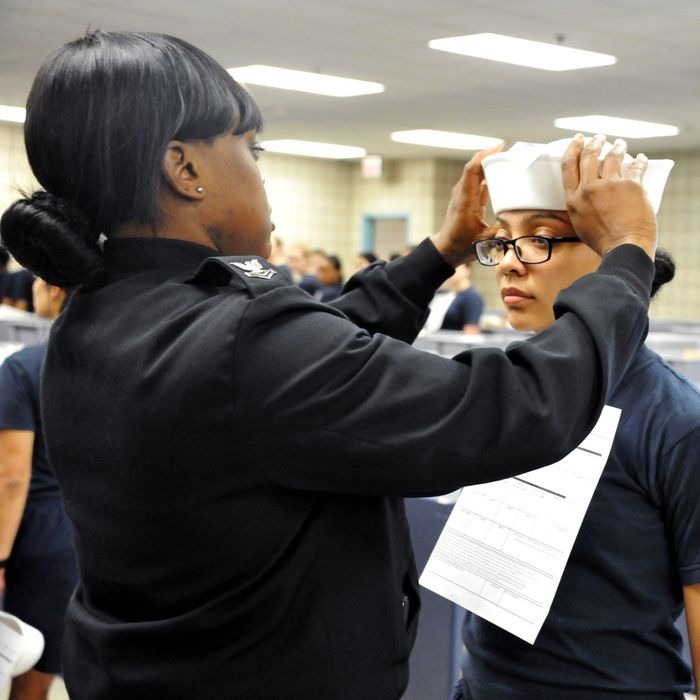 Engineman 2nd Class Shanice Floyd, a recruit division commander, ensures the proper fit of Seaman Recruit Megan Marte's white enlisted hat, or "Dixie cup," during uniform issue at Recruit Training Command.
Photo: Susan Krawczyk/U.S. Navy
On Monday, the Navy issued the well-known white hats to its new class of enlisted women recruits for the first time, a gesture symbolic of the upcoming gender-neutral changes to sailors' uniforms.
Currently, enlisted men's service dress uniforms, or crackerjacks, consist of a pullover shirt, slacks, and the white hat, known as a Dixie cup. Enlisted women's service dress blues (or SDBs) include a suiting jacket, a skirt or slacks, and a cap.
Updated jumper-style SDBs with a zipper fly instead of a button flap will be given to both men and women recruits starting October 1 and are expected to be available for sale in January. They'll be mandatory in 2020, the Navy Times reports. The hat change is required sooner: Enlisted women sailors have until October 31 to start wearing them.
"This feels incredible as we are making a part of history," seaman recruit Madeleine Bohnert told the Navy News Service. "It's really awesome how something as simple as our [hat] is so symbolic in regards to equality and the uniformity in the military." And as recruit division commander Shanice Floyd said, "Junior enlisted males and females already wear the same dress white uniform so this way when we get into the same dress blues uniform we'll look more as a unit."
Not everyone is a fan of the updates, though. Some women say the Dixie cups are easily stained by makeup and require different hairstyles from their old hats. Others simply don't want to dress like men (in ill-fitting pants, no less) and doubt that similar uniforms will promote respect.