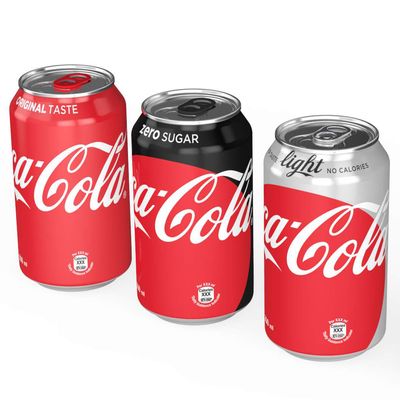 The new Coke can designs. And, yes, Diet Coke is called Coca-Cola Light in most places outside the U.S.
Photo: Coca-Cola
On Monday, Coca-Cola announced new, unified branding for its four types of Coke and it is surprisingly horrifying.
Regular Coke will stay all-red, but Coke Zero, Diet Coke, and Coca-Cola Life will now feature the company's signature red disc on top of their normal colors of black, silver, and green. Each can will have a matching colored pull-tab.
Why mess with perfection? BuzzFeed reports that Diet Coke sales were down 6 percent last year while Coke Zero went up by that much. Coke's chief marketing officer said in a release that the changes will unite "the Coca-Cola family under one visual identity and making it even easier for consumers to choose their Coca-Cola with or without calories, with or without caffeine."
The updates could also make some Diet Coke drinkers paranoid that people will think they're drinking sugar-laden regular Coke even though they totally don't eat sugar because it's really bad for your skin you know.

The new packaging will roll out in Mexico starting in May, but the U.S. cans won't change until next year, which gives us some time to prepare. Here's the plan: Thankfully, the scarlet brand is only on one side of the can. Simply rotate the can so the silver faces front and insert a straw to retain maximum smugness levels.