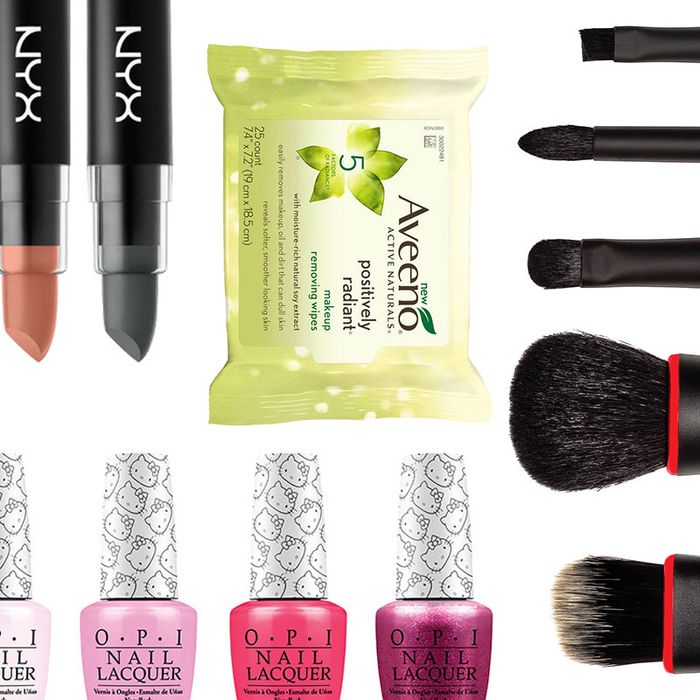 We're in the season of spring-ish. It's not quite spring, but it's also not quite winter — more like spr-inter, an in-between season where the weather isn't quite different enough for you to transition your skin-care routine just yet. Here's a drugstore beauty roundup to help you navigate this meteorological limbo: Kim Kardashian–approved leg makeup, a face wipe I actually do like, kawaii nail polish, and a set of brushes that feels softer than some of my sweaters.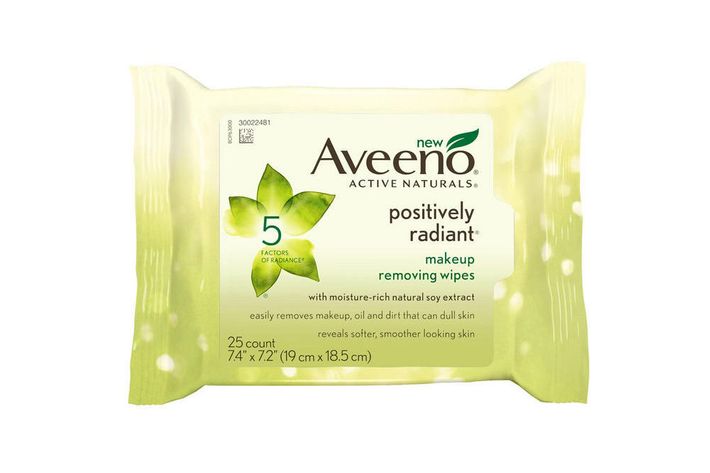 Aveeno Positively Radiant Makeup Removing Wipes, $6.99
My feelings about face wipes mirror my feelings about cilantro: a strong "No, thanks." But Aveeno's face wipes are an exception. Unlike others, which leave behind a tingly alcohol residue, these feel gentle and moisturizing on the skin. Their material is soft, not chafing, and they can remove most makeup with ease (although not if it's waterproof). After wiping, your face will feel like it's been cleansed, rather than abrasively scrubbed. Throw them in a gym bag to remove your makeup prior to working out.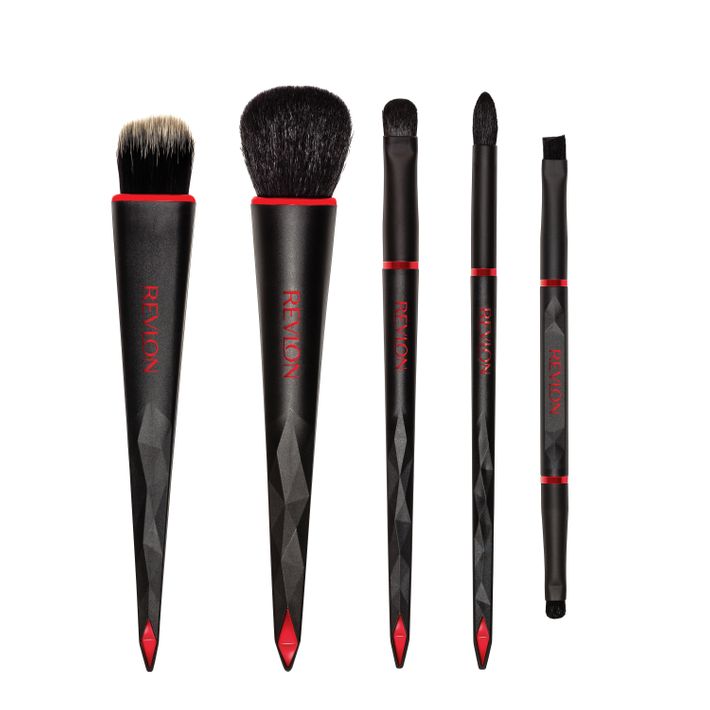 Revlon Essentials 5-Piece Brush Kit, $29.69
Both makeup brushes and German luxury cars can cost thousands of dollars, but these Revlon brushes, by BMW Design Group, give you both at a reasonable price point. (At a press preview, I couldn't stop running my hands over these, to the dismay of the PR girl showing them to me.) The bristles are packed just the right amount — not too dense and not too loose, so they're good for blending. I particularly like the eyeliner brush and crease brush (also known as the shadow brush), which are soft and don't shed.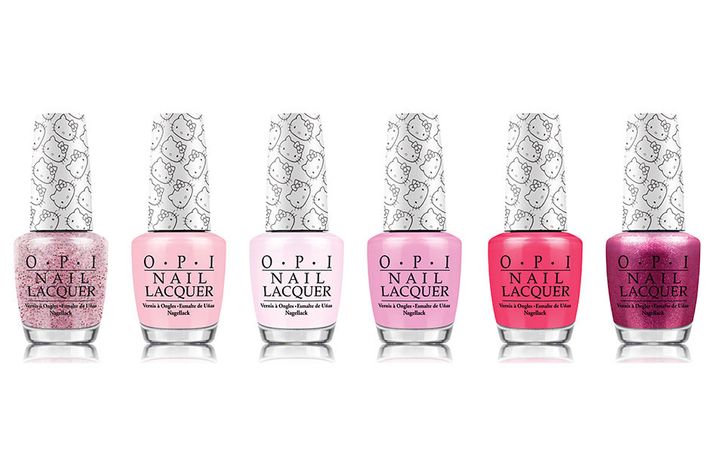 Hello Kitty by OPI, $4.97
Hello Kitty is in my lifeblood. I think I knew who Hello Kitty was before I knew about Mickey Mouse, and someone once scouted me on the street for a Hello Kitty voice audition (this may have been a scam, but still). The Hello Kitty OPI collection is just as friendly as our favorite cartoon chameleon, with lots of wearable pinks that go with any skin tone. I like Let's Be Friends, a cotton-candy pink that would look pretty on soon-to-be-exposed toes.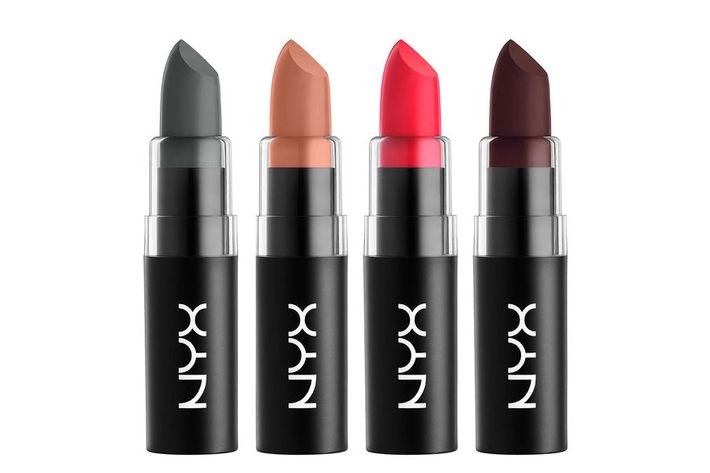 NYX Matte Lipstick, $5.99
If you try any drugstore lipstick ever, let it be from NYX. I forgot about how good these lipsticks were until we were conducting tests for our favorite pink lipsticks. Granted, they do have an unusual chemical smell, but the color payoff and vibrancy rival those of luxury lipsticks. They're densely color-packed yet go weightless on the lips, giving you Rihannaesque color for under $10.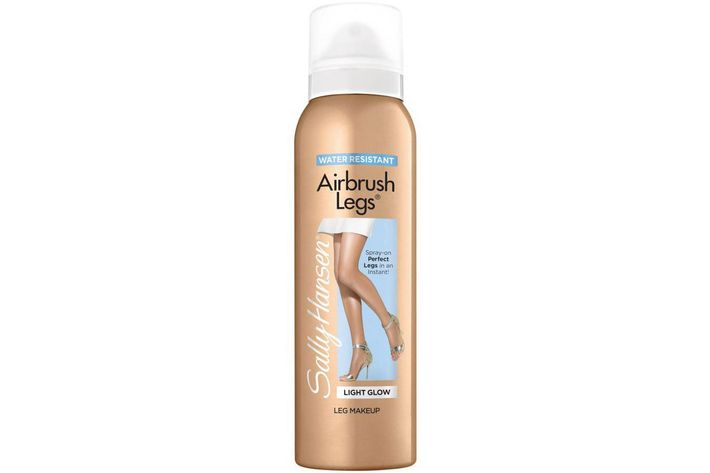 Sally Hansen Airbrush Legs, $11.19
Back before the Kardashians became the guarded interview experts they are today, Kim mentioned to XOJane that she liked Sally Hansen's "Great" Legs for her psoriasis. I immediately went out and got a bottle, and she was right. Coming in six colors, these blend easily, don't rub off, and deliver an even spray with no streakiness. They also wash off the next day. Just be careful not to spray them too close to your body — do it the suggested six inches away. They cover small imperfections and veins, giving you legs that look natural, not Barbie-ish.