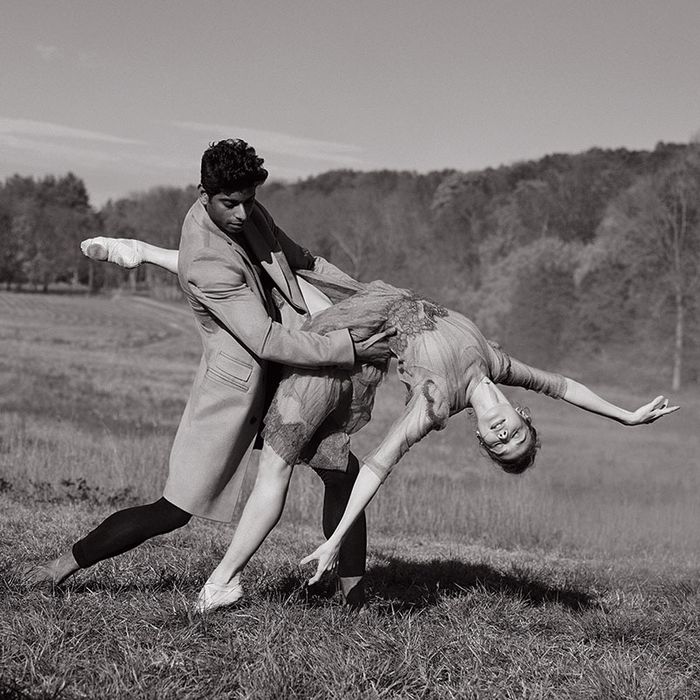 NYCB's 2016-2017 season campaign, shot by Peter Lindbergh.
Photo: Peter Lindbergh
Renowned German photographer Peter Lindbergh is known for his starkly elegant portraiture of actors and models, but he's no stranger to shooting dancers, too — his subjects have ranged from Blanca Li to ballerina Polina Semionova to his close friend, the late Pina Bausch.
"With dance, it is about capturing movement, which is everything I love," Lindbergh says. "It leaves space for the unexpected, as the same movement is never twice the same." Still, his new campaign for New York City Ballet, heralding the company's 2016–17 season, feels like a departure from the formal, staged nature of so much ballet imagery.
Shooting on the grounds of a country home in upstate New York last October, Lindbergh was eager to capture City Ballet's dancers out of their usual context, in stables, barns, and an oversize garage "with amazing light." Per artistic director Peter Martins's suggestion, he shot the dancers in black and white. "It was not about capturing perfect movements; it was about portraying the energy of dance and, of course, poetry," Lindbergh says.
The resulting photographs have a raw, sensual energy emphasizing the dancers' physicality and sense of partnership and ensemble — a few of the qualities that make the company special. "There was a beautiful feeling of cooperation and understanding," Lindbergh says. "I like when you can improvise with the energy of dancers. You need to leave space for things to happen. It was not about the clothes or location; it was about capturing moments."