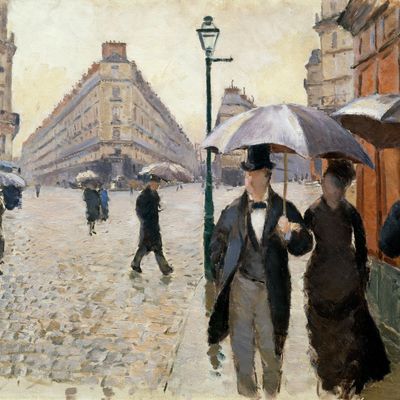 Gustave Caillebotte's Paris Street; Rainy Day.
Photo: Corbis
Marcel and I both swiped right. After the usual exchange of Tinder pleasantries, he suggested we meet for a drink that night, but I was busy, so he asked for my number to connect on WhatsApp. French guys really don't play games — here's what popped up on my phone the next day:
"Bonjour Sara. Ca va bien?" (Hello, Sara, are you well?) followed by a flower bouquet and kissy-face emojis.
"Dispo aujourd'hui pour un verre?" (Are you available today for a glass of wine?) followed by a wine-glass emoji.
I was available, actually, but holy emojis! Wasn't he coming on a little strong? In New York, where I'd lived before moving to Paris, kissy faces were reserved for further along in the relationship — you know, like post-marriage.
While many Americans come to Paris because of love, I came, in part, for the possibility of finding it. At 36, I was burned out on dating in New York and sick of fielding questions about my love life from every aunt, neighbor, rabbi, and dental hygienist.
But for all the parallels, there are about a dozen culture clashes that make finding a partner in this romantic city even more of a nightmare — just in completely different ways. Or rather, completely opposite ways. If in New York you marshal an army of resources to pick the perfect first-date spot, here in Paris, men suggest just meeting at the metro and taking it from there. If in New York you play hard to get, sparking chemistry through coyness, here in Paris, a second date at his house for dinner is par for the course. The mix of laissez-faire attitude and unabashed attention can be baffling for an American more used to the game of Do You Like Me? I Can't Tell. It's like you skip courtship and go directly to coupledom shortly after exchanging texts.
When I showed up for my date with Marcel, for example, part of me thought he might actually have a bouquet of flowers with him — that's how over-the-top Romeo he'd seemed. I was relieved that he skipped the roses; this may be Paris, but it's not a Woody Allen movie.
He did, however, begin caressing my forearm before we even ordered wine. Now, let me be clear: Marcel was a handsome man and it sure felt tingly to be touched. But he was also overconfident and had nothing interesting to say (nor much interest in what I had to say), which made his not-so-subtle moves a bit of a turnoff.
Here in Paris, love comes fast and furious.
"They're just in love immediately," says Amy, 41, a long-time New Yorker now living in Paris. "On my first date with this guy Benjamin, he ended it with a big ol' tongue-y smooch. And if they kiss you, if they put their tongue in your mouth, they are committed to you. On our second date, we were watching a sunset after hours of walking, because they love their long walks here, and he wraps his arms around me from behind and whispers, 'I hope this moment lasts forever.' I had to put the kibosh on us pretty quick. It was too intense."
On the plus side, at least Marcel paid for the bill and had suggested an actual location for our rendez-vous, which is far more than I can say for previous dates I'd been on with French men and something I'd grown accustomed to back in New York.
It's not so much about old-fashioned chivalry, but plain old generosity. If you ask me out, it'd be nice if you get the first glass. If there's a second, I'm on it. As far as choosing a place to meet, give a girl a destination so all we have to do is get a table and sit down and focus on each other as opposed to coming up with intermediary conversation while walking around in circles outside a smelly, crowded metro station.
"I appreciate the spontaneity, but my New Yorker mentality can't handle just going with the flow like this," says Amy. "What am I going to wear? Just tell me where we're going."
Cole, 30, another New York transplant, thinks choosing a place in advance says something about what kind of guy he is. "It speaks volumes," she says. "Same if he's picking up the tab. Are you excited to see me or do you not give a shit? Also, shower before you meet me! I've gone out with guys and I'm questioning their hygiene. I'm like, 'Don't be a stereotype!'"
I'll admit, though, that part of me appreciates this casual way of courting. While deodorant would be nice, as would picking up the bill, maybe choosing a specific place to meet isn't necessary after all. It's about the company, right? Maybe all we do need is a long walk on cobblestones, the moonlight, and a spark. And not having to wonder when to send the next text or if it's too soon to sleep with him? That's actually quite appealing.
"In Paris, guys are much more likely to be upfront with you, which is a relief," says Cole. "In the U.S., there's this stigma that if you sleep with someone too soon they're not going to like you. Whereas here, if you like each other, you sleep with each other. They're not going to slut-shame you."
And there's some truth to the age-old clichés about Paris as the world capital of romance. As Jenny, 28, another New York expat, reminded me: "The French love the idea of love."
Amy added: "It doesn't seem to intimidate them as it intimidates us."
So the next time some Marcel, Mathieu, or Laurent sends me a screen full of emojis, or starts caressing my arm without warning, I'm going to try to open up more freely without judgement. It may be difficult to reprogram my brain from "slow and steady wins the race" to "the last one to the finish line loses," but the fact of the matter is, if I'm going to live here, I have to learn to love here — on their terms.