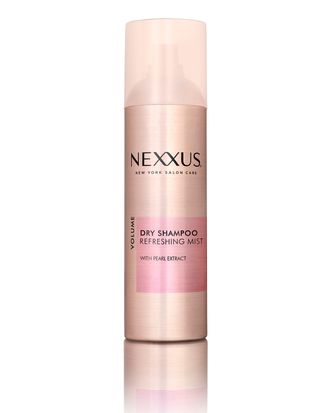 Nexxus Youth Renewal Dry Shampoo
Now that's we've all been talked off the dry-shampoo ledge, here's how to celebrate: with this drugstore dry shampoo that works just as well, if not better, than the pricier stuff.
What I like about Nexxus's dry shampoo is that it dispenses in a fine mist that easily absorbs any hair oil or grease without coating the hair in a fine white coat of George Washington wig powder. The directions do say to brush out the shampoo for best results, but I find that the mist is so delicate that it doesn't even necessitate blending. Its effects are long-lasting and it won't make your hair wilt or leave it feeling sticky or gritty. For me, the only detriment is its sugary, fruity scent, but some people love it, so it's all relative. The value, though, is inarguable.
Nexxus Dry Shampoo Refreshing Mist , $19.99