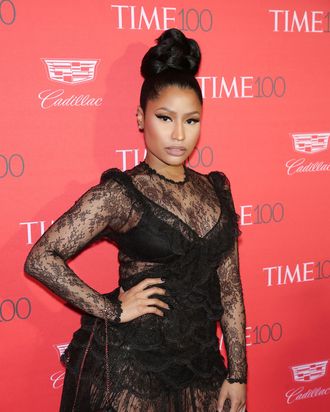 Photo: Neilson Barnard/Getty Images
Nicki Minaj, who was honored by Time magazine this year for being the best person on Earth (I'm paraphrasing), performed at the Time 100 Gala Tuesday night to an audience of Julia Louis-Dreyfus, Melissa McCarthy, Gina Rodriguez, and a whole lot of other famous people (and Donald Trump). When it came time to perform her monolithic tribute to the power of the butt, "Anaconda," she gave two politicians a little shout-out.
"All the independent women, make some noise!" she told the honorees before launching into "Anaconda." "If you got your own money in the bank, make some noise! If you don't need a man to buy you a car or a house, make some motherfucking noise! Hey listen, to all the men in this room, if you don't know how to treat your woman, there are 100 dudes lined up ready to treat her like a queen. Can I get an amen? I have a very special song I'd like to dedicate. … I'm very political and I would like to dedicate a song here, just in the spirit of unity, to Joe Biden and Donald Trump."
After the song was over, she asked, "Who do you think likes the biggest butts? Donald Trump or Joe Biden? Trump?"
What a time to be alive.
Reported by Jennifer Vineyard.