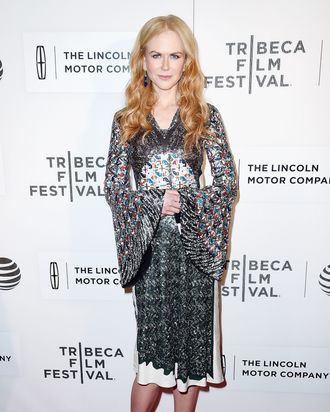 Nicole Kidman.
Photo: Nicholas Hunt/Getty Images
In the play Photograph 51, Nicole Kidman portrays Rosalind Franklin, a female scientist who played a major role in discovering DNA's double helix structure. Franklin died tragically at 35, and although she was recognized for her work on viruses, her contributions to the field of DNA went unacknowledged until after her death. It's an all-too-familiar story, and one Kidman connected with.
"As the daughter of a scientist, the play is based on something that's very important to me," she said before a screening of Family Fang, in which she also stars, at the Tribeca Film Festival Saturday. "So there were a lot of factors that went into the emotional commitment to it. But everyone said to me, 'No one's going to be interested in a female scientist who died at 35.' I kind of lost my confidence and thought, 'Maybe they're right,' so it was amazing to see the audience react to the play. Many times I would cry during my curtain call because it was so emotional to have that connection."
There are rumors Kidman will return to Broadway to perform Photograph 51, which was a hit in London, but so far nothing is confirmed. "When it happens we'll announce it," she said. "But I would really like to." And to all the female scientists out there: Nicole Kidman is on your side.