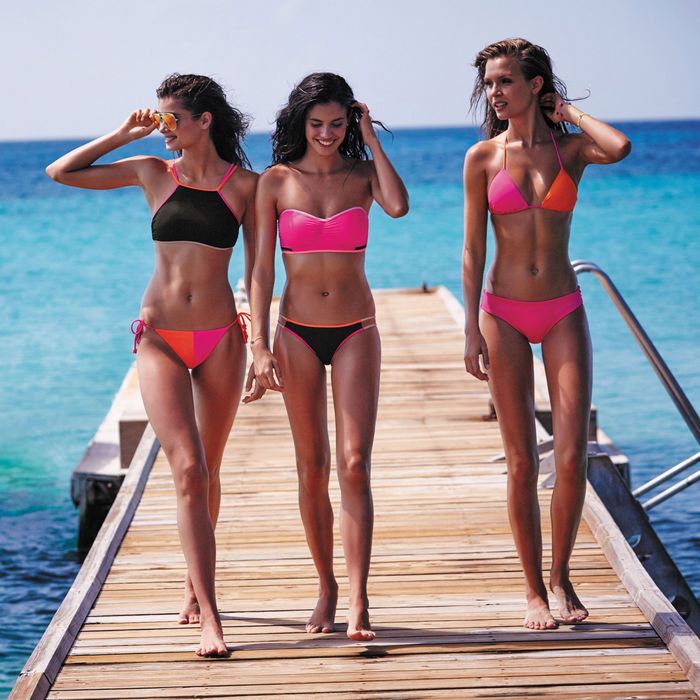 And no more catalogs.
Photo: Victoria's Secret
Here's something that will devastate women and men everywhere: This is the last summer to buy a Victoria's Secret swimsuit, or to flip through a Victoria's Secret catalogue.
After the company vaguely announced earlier this month that it would cut "certain merchandise categories," BuzzFeed News reported that by the end of this year Victoria's Secret swimwear will no longer be sold in stores or online. Instead, in stores you'll see VS Sport activewear.
Where will an entire nation of college girls get cheap spring-break bikinis now? In the Pink section, next to the bubblegum-pink sweats. Earlier this month in a release, the company announced it will cut 200 jobs and focus on the three brands Pink (where you can still buy bikinis), Victoria's Secret Lingerie, and Victoria's Secret Beauty. A male Citi analyst called the elimination of the catalogue "every guy's worst nightmare."
Victoria's Secret swimwear made the company about $500 million last year (about 6.5 percent of all Victoria's Secret sales). But last August the company reported lower swimwear sales, apparently because they missed fashion trends and "designed overly complex swimsuits." Maybe like this one?