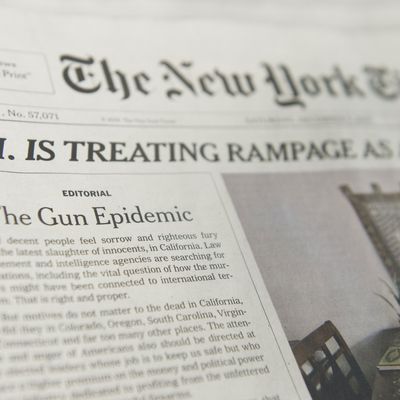 The New York Times.
Photo: Saul Loeb/AFP/Getty Images
New York Times CEO Mark Thompson, who is the former executive director-general of the BBC, is on the receiving end of a multimillion-dollar class action lawsuit that alleges that, under his watch, the company has begun to employ practices of "deplorable discrimination," which are sexist, racist, and ageist.
The lawsuit was lodged by two black women in their 60s who work in the advertising department at the paper. The suit alleges that since Thompson took his position in 2012, the paper's advertising directors have become "increasingly younger and whiter" and have begun to make comments that were "shockingly rife with racially charged innuendos." The Guardian was given exclusive access to the documents in the suit by the two women:
They claim they were repeatedly passed over for promotion by younger white employees despite their greater experience. They also claims that "younger white individuals" at the same level as them are paid far more than they are. In addition, they claim they were "denied the opportunities to earn as much as [their] younger white peers because of her race and/or gender".
The suit also alleges that the New York Times is rife with gender discrimination, a charge that was brought against the paper in February in a separate lawsuit when a former ad exec said that she was laid off during the maternity leave she was entitled to.
A spokesperson for the Times told The Guardian, "We have not seen the complaint, but the statements you have shared are completely unjustified attacks on individuals and grossly distort the work environment at the New York Times Company."