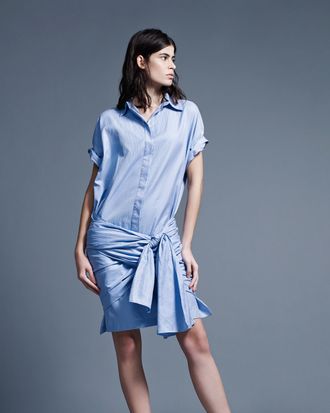 The best part of the next six weeks is that the temperature is in a sweet spot — not too hot that you're melting in your carefully constructed outfit, but also not so cold that you're shivering for the sake of looking cute. To celebrate that first blissfully warm spell where you can bare your legs and ditch the tights forever, here's an outfit idea that's simple but cool. It begins with a really good shirtdress that has interesting details like this Stella McCartney number that wraps around the hips. Then throw on a pair of menswear-inspired lace-up shoes. The trick is to crush the back down when you slide your foot in — it's like you almost didn't try to look good (except you secretly did).
i. DRESS: Stella McCartney Martine dress, $1,765, Stella McCartney; for a similar look, try Alexis shirt dress, $392, Bergdorf Goodman or MSGM belted shirt dress, $360, Moda Operandi
ii SHOES: Proenza Schouler grommet oxford, $695, Spring; for a similar look, try Zara ring detail espadrilles, $69.90, Zara
Photographer: Nadya Wasylko; styling by Diana Tsui; model: Rafaela Frederick at Muse Management; makeup by Kajsa Svanberg; hair by Jerome Cultrera; photo editor: Emily Shornick; photo assistants: Scott Simpson and Pablo Espinoza.