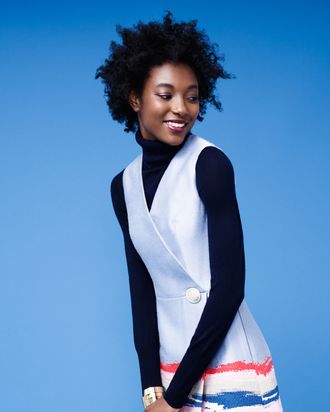 When you decide to spend a lot of money on a dress, you obviously want to maximize its use. Sure, you could drop a ton on a fancy event gown, but how often will you actually wear it? The smart move is to splurge on something that can work for the office, regardless of the temperature outside. Take this Tory Burch sleeveless number that features painterly details. Worn with a long-sleeved turtleneck underneath, it's the perfect piece during these transitional weeks when there's still a chill in the air. And then, as the weather warms up, you're free to ditch the layers and feel the sunshine on your bare arms.
To really play up the unique, artsy hem, try adding a big, sculptural cuff. This version by indie designer Oblik is a favorite for its weird wavy shape, but you could also try an old favorite or go for a vintage find.
i. TOP: Banana Republic cotton cashmere turtleneck, $68, Banana Republic
ii. DRESS: Tory Burch painterly jacquard dress, $895, TORY BURCH; for a similar look, try Theory Livwilth striped linen dress, $345, NORDSTROM
iii. BRACELET: Oblik Atelier Continuity bracelet, $375, Oblik Atelier
Photographer: Nadya Wasylko; styling by Diana Tsui; model: Shamone Edwards at Muse Management; makeup by Kajsa Svanberg; hair by Jerome Cultrera; photo editor: Emily Shornick; photo assistants: Scott Simpson and Pablo Espinoza.