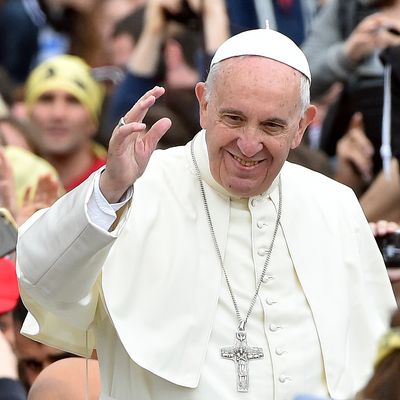 The Pope shading some teens.
Photo: Vandeville Eric/AP
The so-called cool pope took aim at an entire generation of Snapchat devotees by suggesting that happiness could not, despite personal beliefs, be found in an app. During a weekend dedicated to "the youth," 70,000 teenagers descended on Rome to hear Pope Francis share his thoughts on what teens should be doing instead of WhatsApping.
"Your happiness has no price. It cannot be bought and sold: it is not an application you download on a mobile phone. Even the latest version cannot help you to grow and become free in love." According to Business Insider, the Pope was holding an iPhone of his own when he told his crowd that "living without Jesus was like not having any signal."
"Always be sure to go where there is a network: family, parish, school," he told the teens. The pope has clearly never spent hours scrolling through the Instagram Explore tab.