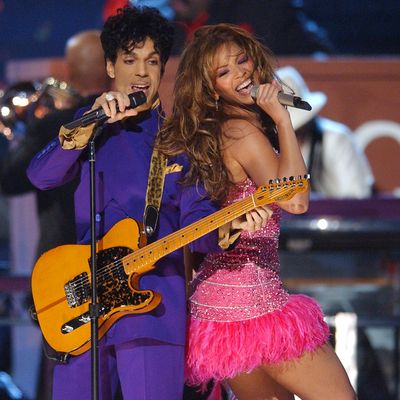 Prince and Baby Bey at the 2004 Grammys. Michael Caulfield Archive / Contributor
Social media was going crazy Thursday with tributes and love from saddened entertainers distraught over Prince's sudden death. But some of the best came from female artists who have collaborated with the icon over the years:
Mary J. Blige and Prince did a duet of "Nothing Compares 2 U" at the 2012 iHeartRadio festival.
She writes, "Wow!!! I can't even believe this!!! 💔💔 I will never forget this day that you came on the iheart stage and blessed with this performance and I will never forget your many inspiring and helpful conservations. I love you. You will be sorely missed. 😔😔 #RIPPRINCE"
Beyoncé says she was starstruck during her 2004 Grammys performance with His Purple Majesty.
J.Hud and Prince took a turn with "Nothing Compares 2 U" in 2012 at a Welcome 2 Chicago show, and realized everyone's dreams. She captions her photo: "heartbroken and speechless."
She also sent out a video of The Color Purple cast's surprise "Purple Rain" tribute to Prince Thursday night.
And, of course, Prince helped produce Madonna's 1989 album Like a Prayer, on which they did a duet of "Love Song." She says, "He Changed The World!! A True Visionary. What a loss. I'm Devastated. This is Not A Love Song."