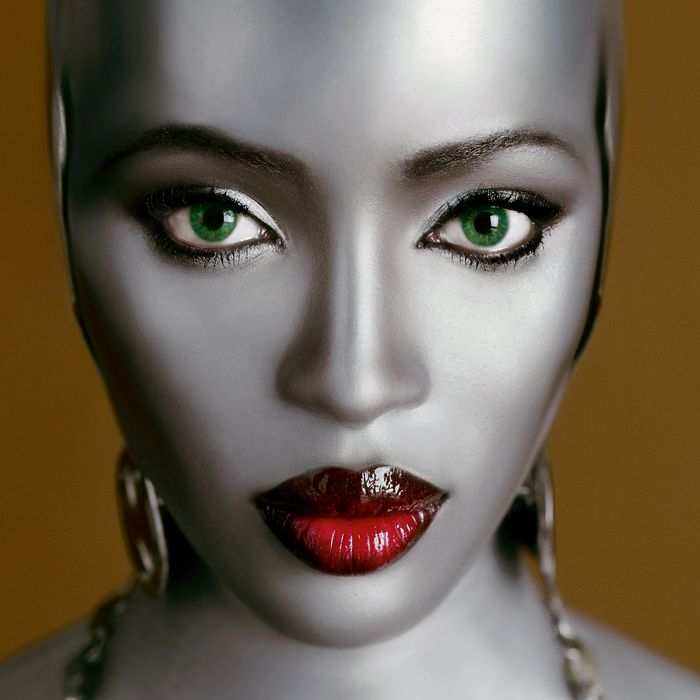 Campbell, photographed by Seb Janiak
Photo: Seb Janiak
Imagine, for a moment, that you're a fashion student living in a basement bedsit in London. Suddenly, you see Naomi Campbell's unmistakable mile-long legs strutting down the stairs. That happened to Zac Posen when he was still an unknown, a Central Saint Martins undergraduate who caught the eye of the famous model and got to fit dresses specifically for her iconic form. "Watching The Legs come down the stairs," he says reverently, was an indelible moment.
Campbell's silhouette is so recognizable that her new book from Taschen, out today, has a 3-D cover shaped like her famous bust. Few models can lay claim to such an unmistakable body, or to the unmistakable body of work inside. Campbell has coyly played Eve for Peter Lindbergh, raced against a cheetah for Jean-Paul Goude, and transformed into a silvery cyborg for Seb Janiak. Campbell has built the kind of persona that warrants a two-volume coffee-table book by tempering her out-of-this-world looks with a heavy dose of realness. Throughout her career, she's undercut her ice-queen image with surprising approachability, and it's kept her relevant for three decades and counting.
To wildly understate the matter, modeling isn't exactly an industry known for fostering long-lasting careers. Even top models eventually move elsewhere — into fashion design, photography, interior decorating, acting, coding. They might make appearances on the runway or in campaigns, but those are usually carefully calculated, like Olivier Rousteing's choice of a clutch of '80s and '90s supers to front this season's Balmain campaign. They are chosen to make a nostalgic impact, to vary our unending feed of Instagirls. With the possible exception of Kate Moss, Campbell is one of the only models of her era still working regularly as a model. She walked — well, posed — in this season's Yeezy season-three spectacular at Madison Square Garden, and in Givenchy's most recent men's show, she made a bikini-clad appearance that launched a thousand #bodygoals hashtags. "She's always been strategic about being a long-distance runner," says Posen, pointing to the work ethic she honed as a child ballerina.
But existing alongside Campbell's strength and physical perfection — and just as key to her appeal — is her ability to take less-than-stellar moments and spin them into victories. Think of her tumble at Vivienne Westwood's show in 1993, off a pair of blue mock-crocodile platforms that, at nine inches, would faze even a catwalk veteran. Yet she handled her mishap with grace, dissolving into giggles as she lay on the ground and the crowd whistled and whooped (Westwood tells the Cut, "She [still] looked like the Aphrodite of modern times.") The fall was such a success, she told David Letterman, that other designers begged her to fake one in their shows for the publicity.
Then there was her metaphorical fall from grace when she was sentenced to community service for throwing a BlackBerry at her housekeeper in 2007 and spun it into a couture outfit parade and a Steven Klein shoot for W. "Most people would break," Posen says. "The prejudice she has faced in her career and also personal issues that have become public, she handles them like a pro." Edward Enninful, now the fashion and style director of W, was not yet at the magazine at the time of that shoot, but he recalls it fondly as an example of Campbell's genius for self-presentation. "Most people would say, 'I don't want to be photographed doing community service: Oh my god – my hair,'" he says. But the model's attitude was, "'This has happened, let's go for it.' It's one of the best stories W has ever done, in my opinion. She wasn't scared to take that extra step. She wasn't worried about how she would be perceived. And in the heat of the moment she was just like, let's just do it. Because that was what was going on in her life at the time."
Campbell transcends generations and even geography. Enninful recalls a trip the two took to Ghana to shoot a W story. "The minute we hit the markets in Ghana, there was the whole market running toward her, 'Oh my God!! Naomi Campbell.' That was when it struck me — she REALLY is a global icon, [even] in a little village in the heart of Africa." Givenchy designer Riccardo Tisci, who counts the model as a longtime muse and just directed her in a music video, points to her cross-generational appeal. "My mom, she's 87, my sister, my little niece, she's 17 — everybody in my [household] loves Naomi."
Well before she founded the Diversity Coalition with Bethann Hardison and Iman in 2013, Campbell was one of the loudest voices for runway diversity. "I didn't work 28 years for [diversity] to be a trend," she told Nick Knight in 2014. "That's one of the things that keeps me wanting to work. I can't duck out yet; I feel I still have to represent." She has said that she feels compelled to advocate on behalf of younger black models who might be afraid to speak out for fear of damaging their careers. (Just as her fellow supermodels once advocated for her: "My girls stood up for me to so many designers who didn't want to use black models,' she told Vanity Fair. "They were like, 'If you don't put Naomi in, we're not doing the show, either.'")
"I think Naomi always spoke her mind," says Enninful. "She's received beauty contracts [where] they wanted to pay her less than her [white] contemporaries, so from day one she knew her worth and she's now in a position where she can look down at the industry and think, It's been 20 to 30 years since I started and these girls need help." But besides her message, her mere image — staring down from billboards all over the world — is a powerful reminder that a girl from humble South London beginnings can ascend to those heights: "I think Naomi represents what is possible."
Says Isaac Mizrahi, "Naomi, for all of her histrionics and drama, always showed up. But I do remember André Leon Talley coming backstage at one of my shows an hour before the collection, going, 'Naomi Campbell will be here.' And I'm like, thank you! Naomi Campbell will be here, since she's wearing like seven of my favorite dresses. And she always got a lot of my favorite clothes because I thought she was one of the most beautiful living creatures. So there."
As Enninful puts it, "You get lots of models that have a spark – but let's see when they're around after 30 years, and then we can have this conversation."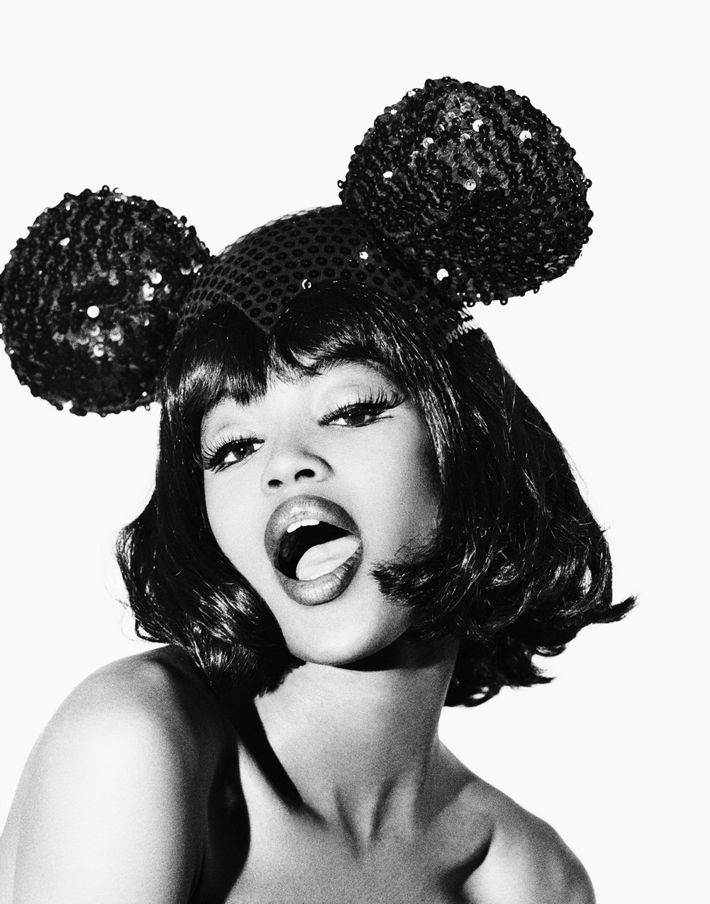 April 1990
 For Vogue Italia by Ellen von Unwerth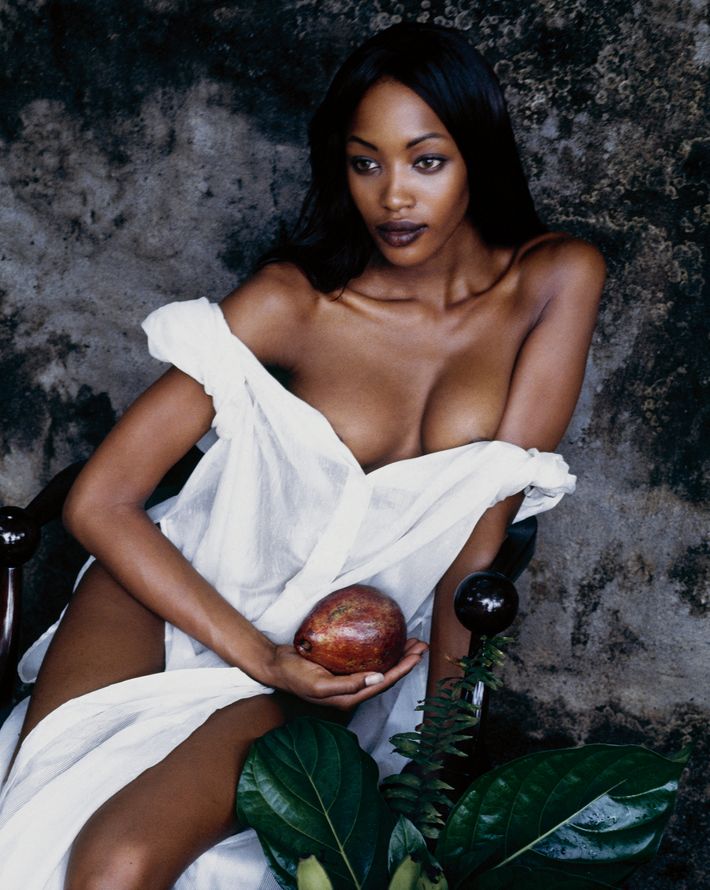 December 1992
For Harper's Bazaar by Peter Lindbergh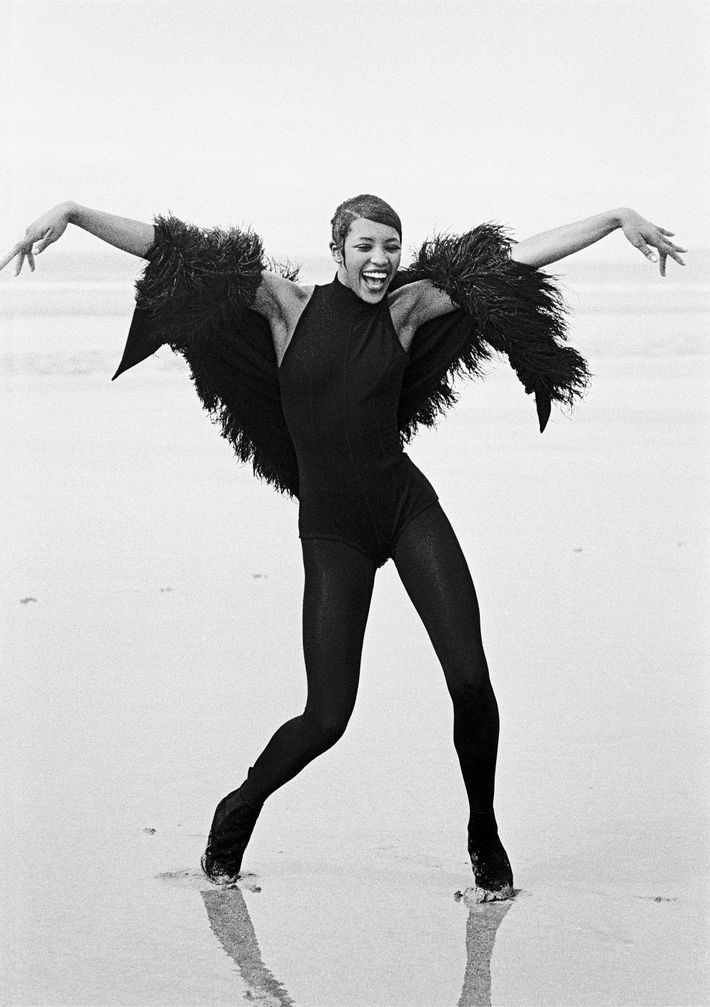 July/August 1988
For Vogue Italia by Peter Lindbergh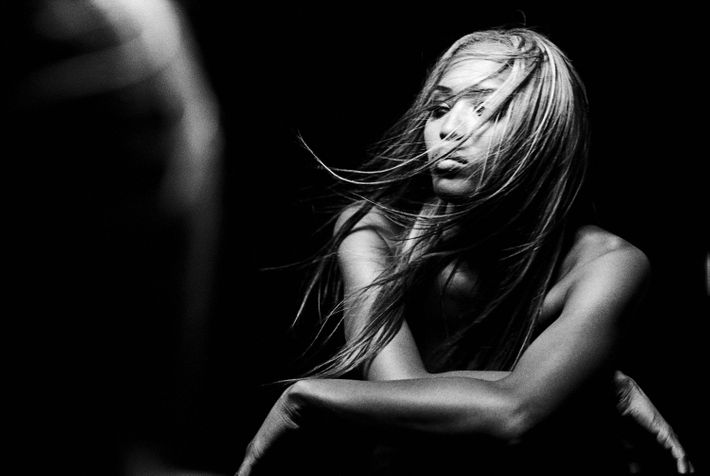 February 2006
For GQ Italy by Peter Lindbergh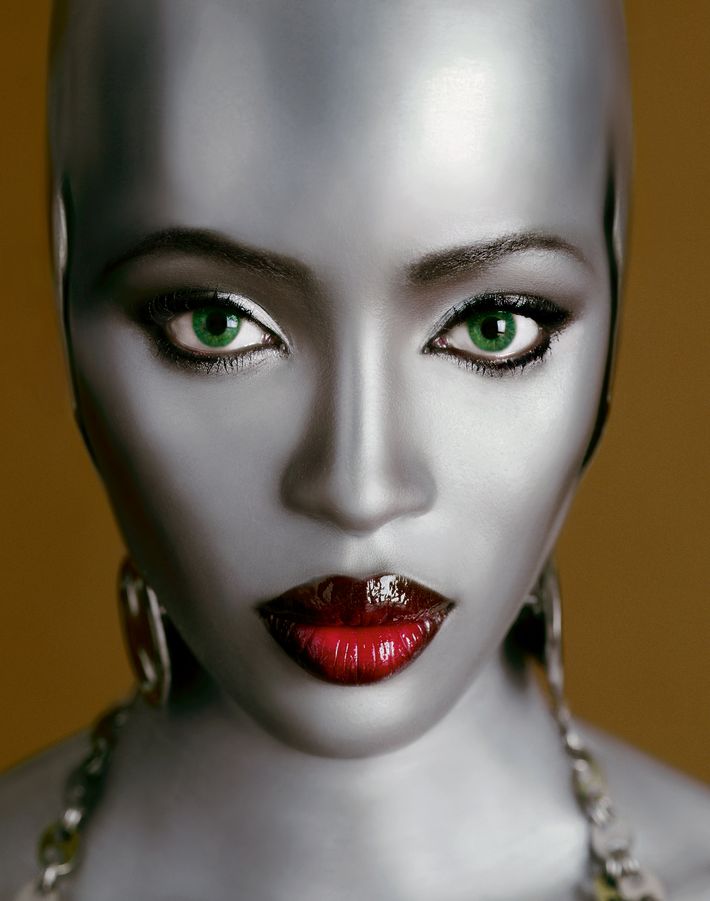 1997
For Elle France by Seb Janiak