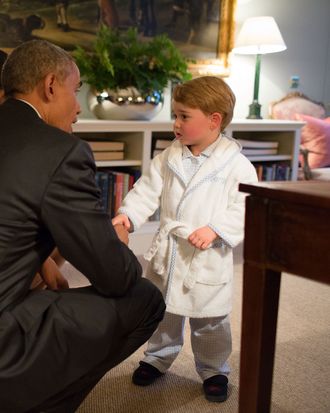 Just try getting your hands on Prince George's slippers now.
Photo: Pete Souza/The White House via Getty Images
For Kate Middleton and her adorable son George, modern royal-ing comprises more than just meeting world leaders and taking incredibly photogenic family photos — it also means selling huge amounts of clothes. Yesterday, Prince George went with robe and slippies when meeting Obama, and plenty of people found his casual sartorial attitude charming, at least enough to want to replicate it on their own toddlers.
Following in the trend-setting footsteps of his mother and guest Michelle Obama, the second-tiniest royal's photo-op caused his outfit to sell out. Robe seller My 1st Years announced in a post on their Facebook that George's gingham-trimmed and monogrammed bathrobe was out of stock (though available for pre-order). "We can't believe Prince George wore our robe to meet President Obama!" They wrote. "Doesn't he look adorable?! You guys have gone crazy for it." There was also a run on George's plane-bedecked slippers from Trotters. Presumably a whole legion of British toddlers are at home now, pretending to gravely shake the hand of President Obama and gamely admire their gift rocking horse.