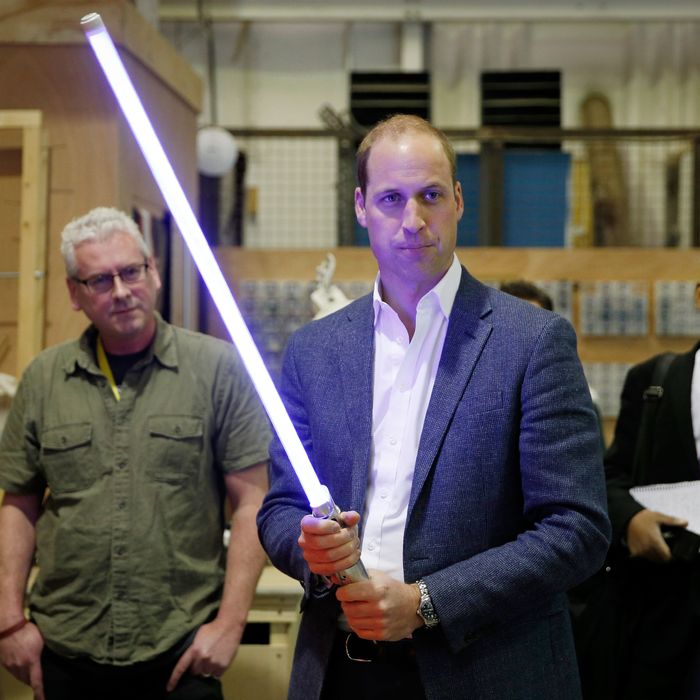 "I take duty very seriously."
Photo: WPA Pool/Getty Images
Following a lightsaber fight with nerd brother Harry, Prince "I Am a Prince" William addressed recent criticism of his lackluster commitment to royal duties. Call him "workshy William" (as many newspapers have) or Instabasic (we have), but he promises he's ready to be a good king.
"I take duty very seriously," he told the BBC on Wednesday, one day before the Queen's 90th birthday brings him a year closer to the throne. "I take my responsibilities very seriously. But it's about finding your own way at the right time, and if you're not careful duty can sort of weigh you down an awful lot at a very early age, and I think you've got to develop into the duty role." Imagine being young with duties! Must be a royal thing. Queen Elizabeth took the throne at age 27. Prince William is mid-development at 33.
The queen and Prince Charles are completely supportive of him, Kate, and Harry doing non-ruler things, William said. He's enjoying the "flexibility" while he can, focusing on being a dad and an air-ambulance pilot while letting the older royals run the show: "My grandfather is so active as well, and he's unwilling to slow down, my grandmother is very much at the helm, and my father is extremely busy, so there's a lot of hardworking members of the family already in place, and I look up to that and I see they do a fantastic job." Sounds pretty nice!
The idea of being king and modernizing the royal family comes to him only occasionally. "It's not something … right now … at the top of my priority list to think about," he said. "I think about it just quietly, just when I get a few minutes or when something pops up and it reminds me to think about it."
Meanwhile, Prince George stood on a pile of duct-taped foam as cover star of a new national stamp, released today. Four generations of royals!