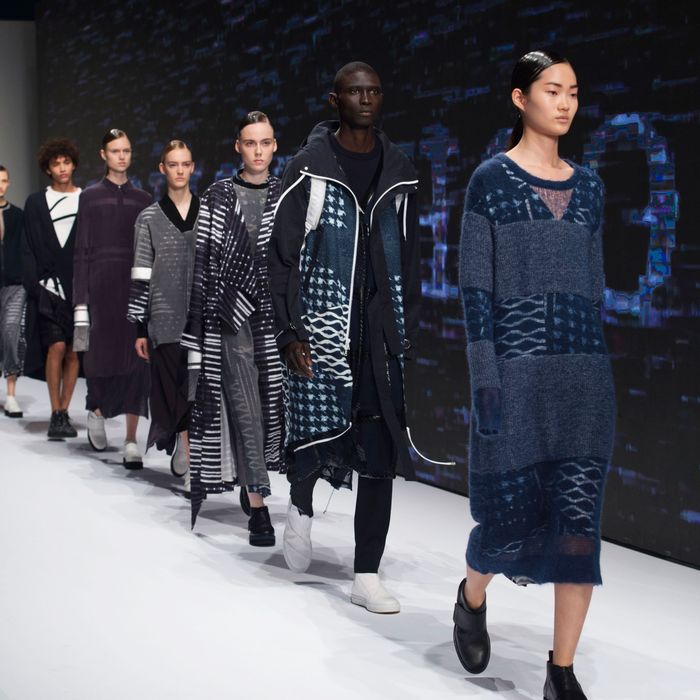 Public School's runway.
Photo: Cedric Ribeiro/Getty Images
Fashion's grand shift is under way. The see-now-buy-now phenomenon and the increased popularity of gender-blurring on the runway have converged in a flurry of changes to the way that brands show their clothes. In February, Burberry announced sweeping changes to its fashion-show model, including plans to show in-season, coed collections twice a year. Tom Ford is also switching to a consumer-facing approach. And last week, Gucci said that it, too, would combine its men's and women's collections into a single showing.
Now, smaller labels are starting to follow suit as well. Public School, which began as a men's label, has been showing four times a year, during New York men's and women's Fashion Week. However, the brand (which has sometimes had coed moments on its runway) will be switching to coed, off-calendar shows twice a year. 
According to Women's Wear Daily, the shows will take place in December and June, when pre-collections are typically shown. The pieces shown will encompass pre-collections and main collections, with pre-spring being shown at the same time as spring, and pre-fall at the same time as fall. Although they'll be showing outside the main fashion-show schedule, the designers are planning "consumer-facing activities" for the standard Fashion Weeks. (We reached out to a rep for more information on what that might entail, but the brand is keeping that under wraps for now, except to say that "it will speak to the consumer directly.")
We're all for consolidating the unnecessarily crowded fashion schedule, and this system has creative benefits for the designers as well as the editors and buyers who'll be attending the shows. Explained co-designer Dao-Yi Chow, this way, "We can actually enjoy our collections as opposed to being tied to the calendar."