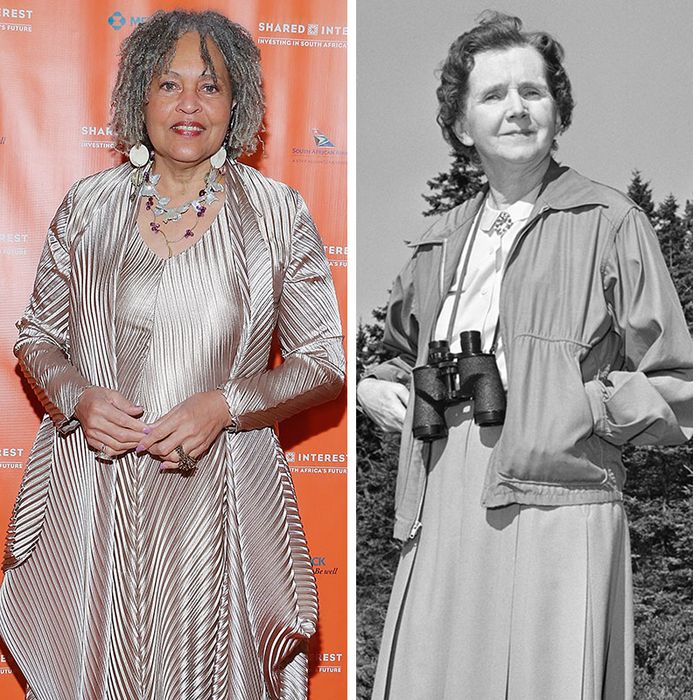 Charlayne Hunter-Gault, Rachel Carson, Susan Orlean
Photo: John Lamparski/CBS/Alberto E. Rodriguez/WireImage/Getty Images
Until this week, you probably didn't know or care who Gay Talese is — unless you're a writer or a superfan of literary nonfiction, the genre he helped pioneer in the 1960s along with a bunch of other white guys and Joan Didion. This week he was "all over Twitter" after failing to name any women writers who have inspired him and then asking a contemporary writer about her nails.

Talese deserves the backlash. When it comes to naming influential women nonfiction writers of the past several decades, though, most of us fare only slightly better than he did. There are a few women who pop up in this canon — Didion, of course. Nora Ephron. Susan Orlean. I've read them, and I love them. But there simply aren't very many of them. The anthologies of great narrative reporting feature scant female bylines. And it's not just older books. Ira Glass's egregiously titled 2007 anthology, The New Kings of Nonfiction, has a gender ratio (2 women of 14) that's as bad as the classic collections.
I'd always assumed this was partly because women, for decades, have missed out on the best writing assignments. If a magazine won't give you a big budget and many months to spend hanging out with Frank Sinatra or reconstructing a crime scene, you can't produce this type of work. But after Talese's remarks, I started to wonder: Is it really true that almost no women were writing powerful narrative nonfiction before the 2000s?
And so I went hunting for one good piece of nonfiction by a different woman writer published in every year since 1960, the year Esquire first published Talese. It was difficult. Most of this stuff just isn't well archived digitally. And yes, far fewer women were working as magazine journalists in the '60s, '70s, and '80s.
But they were there.
I found them — one for each of the past 56 years. And I was ashamed. Despite the fact that I graduated from journalism school, own several nonfiction anthologies, and am an avid reader of magazines, this was the first time I read much of their work. It was the first time I'd even seen many of their names. The male bylines I scrolled past in decades-old tables of contents were familiar, either because those men are still working their prestigious jobs today, or because they have been anthologized. Most of the women nonfiction writers of previous eras, I discovered after some Googling, had short-lived journalistic careers. And the excellent work they did produce has escaped every curator of the past several decades. We simply haven't remembered them. And it's time we start.
That's exactly what this list is: a start. It is far from perfect. Not all of the writing is available online, though I included links when I could. The list skews American, and it certainly skews white. There are still many writers, and entire books and publications, that I missed. (For example, many black women writers published their work in outlets like the Chicago Defender, which are not archived online. And many of Ebony's great profiles from the '60s and '70s are not bylined.) Especially in the modern era, I made admittedly arbitrary choices about whom to include, though I tried to prioritize reported nonfiction over memoir. Importantly, every woman on this list has written much more than the single story I've provided.
And so, by every metric, think of this as a beginning, not a definitive declaration. It's an attempt to balance out a nonfiction canon that has, since Talese's heyday, lazily excluded women and repeated the same five writers' names over and over. It also makes for some great reading.
Jan Morris, The World of Venice, 1960.
Martha Gellhorn, "The Arabs of Palestine," The Atlantic Monthly, 1961.
Rachel Carson, "Silent Spring," The New Yorker, 1962.
Gloria Steinem, "A Bunny's Tale," Show Magazine, 1963.
Lillian Ross, "Dancers in May," The New Yorker, 1964.
Elaine Dundy, "Can a Simple Welsh Lass of Thirty-Six Find Happiness?" Esquire, 1965.
Joan Didion, "Some Dreamers of the Golden Dream," The Saturday Evening Post, 1966.
Renata Adler, "Letter From the Palmer House," The New Yorker, 1967
Mary McCarthy, "Hanoi—1968." The New York Review of Books, 1968.
Ellen Willis, "Up From Radicalism," US Magazine, 1969
Nora Ephron, "Helen Gurley Brown Only Wants to Help," Esquire, 1970.
Lucy Eisenberg, "The Politics of Cancer," Harper's, 1971.
Gail Sheehy, "Inside Grey Gardens," New York, 1972.
Frances FitzGerald, "Can the War End?" The New York Review of Books, 1973.
Annie Dillard, Pilgrim at Tinker Creek, 1974.
Sara Davidson, "The Man With Ten Wives," Rolling Stone, 1975
Loretta Schwartz, "The Forgotten Children," Philadelphia, 1976.
Elizabeth Vorenberg, "The Biggest Pimp of All," The Atlantic Monthly, 1977.
Mimi Sheraton, "A Gastronomic Miracle in the Midwest," Esquire, 1978.
Moira Johnston, "Hell on Wheels," New West, 1979.
Flora Johnson, "The Intelligence Question," The Chicago Reader, 1980.
Barbara Grizzuti Harrison, "What Do Women Want? Feminism and Its Future," Harper's, 1981.
Shana Alexander, "The Patriot Game," New York, 1982.
Debby Miller, "The Secret Life of Prince," Rolling Stone, 1983.
Lynn Hirschberg, "The Fifty-Two Days of Alfre Woodard," Esquire, 1984.
Alice Steinbach, "A Boy of Unusual Vision," Baltimore Sun, 1985.
Edna Buchanan, "Miami, It's Murder," Miami Herald, 1986.
Sara Suleri, Meatless Days, 1987.
Svetlana Alexiyevich, War's Unwomanly Face, 1988.
Katie McCabe, "Like Something the Lord Made," Washingtonian, 1989.
Connie Bruck, "The Deal of the Year." The New Yorker, 1990.
Gayle Pemberton, "Do He Have Your Number, Mr. Jeffrey?" The Threepenny Review, 1991.
Jane Kramer, "Whose Art Is It?" The New Yorker, 1992.
Lucy Grealy, "Mirrorings," Harper's, 1993
Susan Orlean, "Figures in a Mall," The New Yorker, 1994.
Mimi Swartz, "Not What the Doctor Ordered," Texas Monthly, 1995.
Lisa Pollak, "The Umpire's Sons," Baltimore Sun, 1996.
Hanna Rosin, "The Madness of Speaker Newt," The New Republic, 1997.
Jennifer Egan, "Uniforms in the Closet," The New York Times Magazine, 1998.
Jennifer Gonnerman, "The Supermax Solution," The Village Voice, 1999.
Pamela Colloff, "The Sins of the Father," Texas Monthly, 2000.
Penny Wolfson, "Moonrise," The Atlantic Monthly, 2001.
Elizabeth Gilbert, "Lucky Jim," GQ, 2002.
Katherine Boo, "The Marriage Cure," The New Yorker, 2003.
Samantha Power, "Dying in Darfur," The New Yorker, 2004
Marjorie Williams, "A Matter of Life and Death," Vanity Fair, 2005.
Wendy Brenner, "Life and Death in the Cape Fear Serpentarium," The Oxford American, 2006.
Rebecca Solnit, "Detroit Arcadia," Harper's, 2007.
Vanessa Grigoriadis, "The Autumn of the I-Banker," New York, 2008.
Sheri Fink, "The Deadly Choices at Memorial," The New York Times Magazine, 2009
Charlayne Hunter-Gault, "The Third Man," The New Yorker, 2010.
Alma Guillermoprieto, "In the New Gangland of El Salvador," The New York Review of Books, 2011.
Mac McClelland, "I Was a Warehouse Wage Slave," Mother Jones, 2012.
Rachel Kaadzi Ghansah, "If He Hollers Let Him Go," The Believer, 2013.
Rachel Monroe, "Fire Behavior," The Oxford American, 2014.
Taffy Brodesser-Akner, "Searching for Sugar Daddy," GQ, 2015.
Danyel Smith, "When Whitney Hit the High Note," ESPN the Magazine, 2016