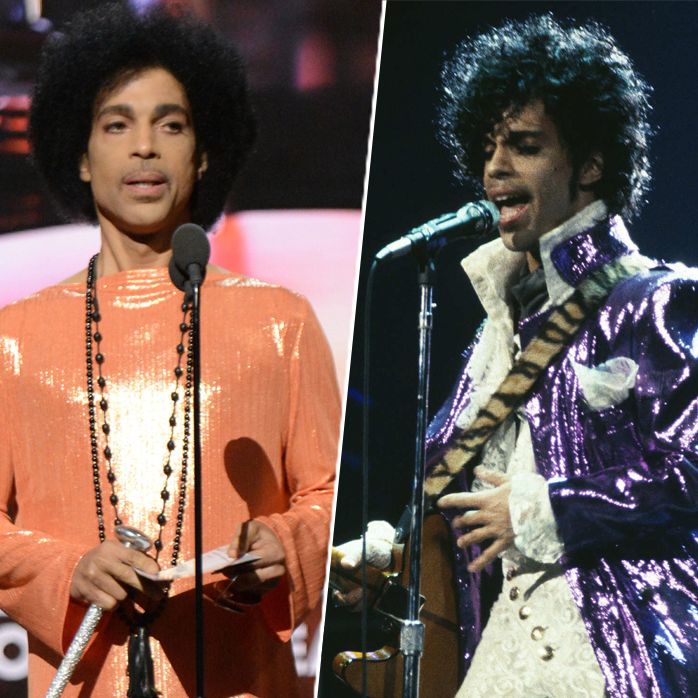 Prince, who passed away at the age of 57 on Thursday morning, will likely be remembered just as much for his fashionable life as his musical career. Like David Bowie, he challenged notions of gender and sexuality, but he also played with the ways those ideas intersected with race. And he did it all while wearing tropes of stereotypical feminine dress in a way that oozed sex appeal.
In our current era of gender fluidity on and off the runway, Prince can be considered as something of a torch-bearer. He wore ruffly peasant blouses unbuttoned to the naval and adorned his limbs with thigh-high stockings and fingerless lace gloves. On stage and in music videos, he gave hyper-sexual performances, gyrating against Apollonia and Carmen Electra in clothing that was tighter and more femme than whatever they had on.
Clad in Cuban heels, lace cravats, or the matching-tunic-and-flared-pant ensembles of late, Prince retained an air of mystery that's proved elusive — or just uninteresting — for other celebrities. As much as he played up his legend and his sexuality, the pop god lived a quiet life, appearing seemingly only when he felt like being seen. He lived as he sings in his song Uptown: "Now where I come from / We don't let society tell us how it's supposed to be / Our clothes, our hair, we don't care /It's all about being there." And when he showed himself, we saw.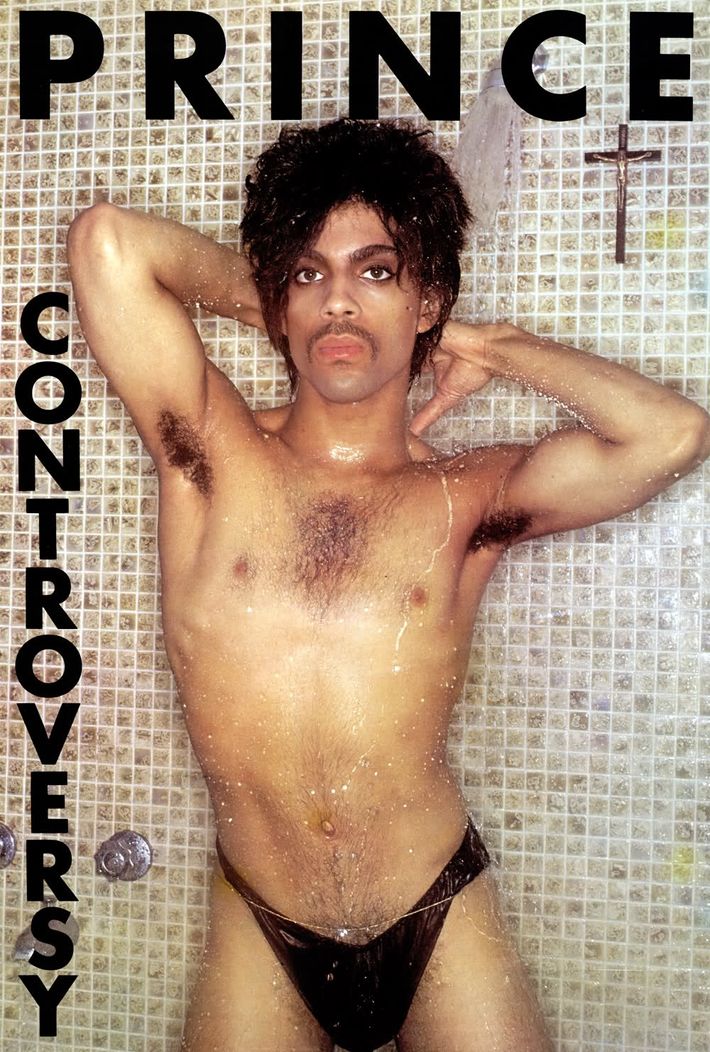 Before he even put clothes on, Prince had a defined aesthetic. He regularly used his own body to interrogate conventional notions of masculinity, playing shirtless in live appearances as if to demand concertgoers take notice of his compact form. And on the cover of his 1981 Controversy album, he wore nothing but skimpy briefs. Though diminutive in stature, he radiated power.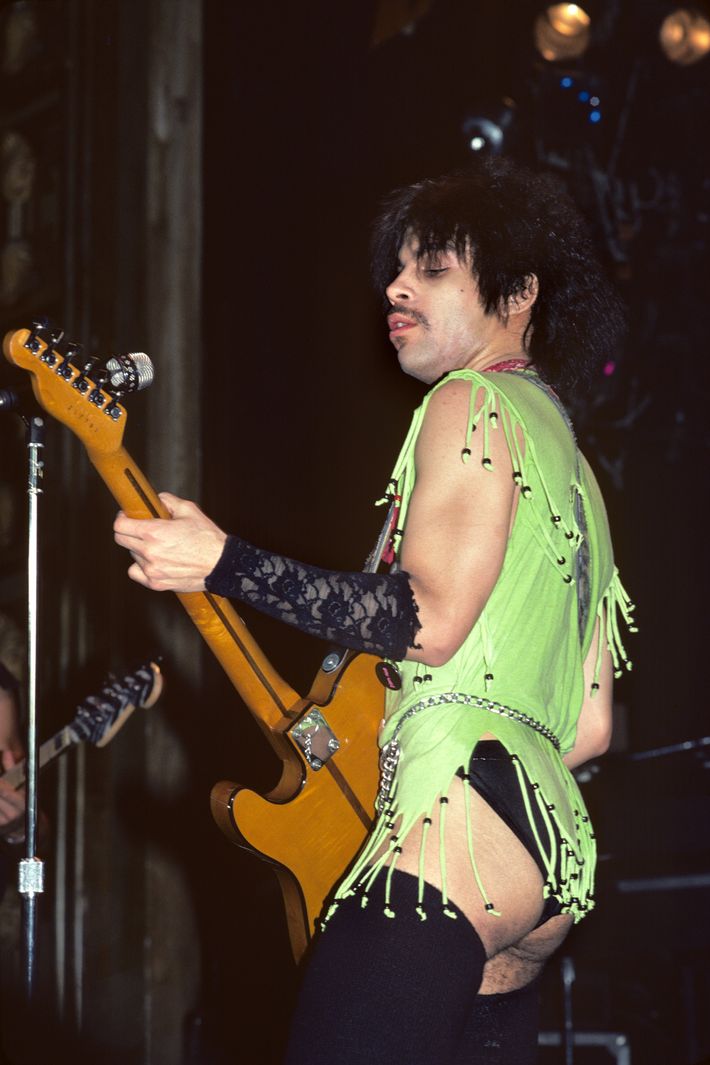 Prince's most famously revealing look might be the assless yellow pantsuit he wore to the 1991 Video Movie Awards on MTV — but that was hardly the only time he showcased the rear view. In this photo from his racy "Dirty Mind" tour, in 1981, he's opted for a flamboyant mix of lace gloves, thigh-high stockings, and a beaded tunic worthy of spring break, which is barely long enought to hide his tiny black briefs.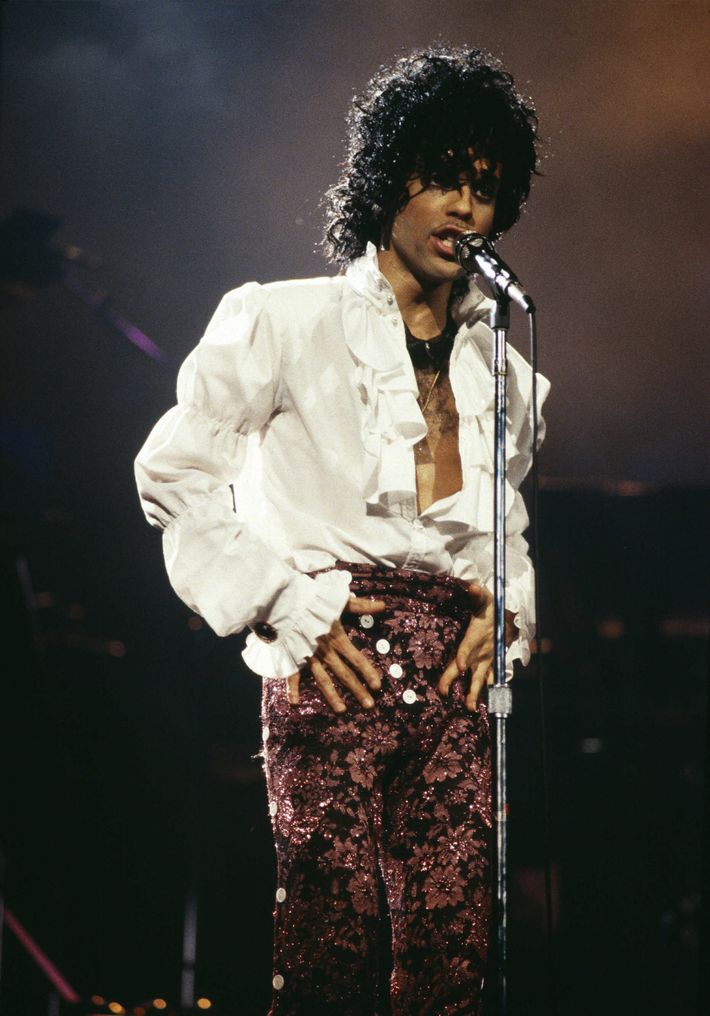 He had a propensity for Victorian-inspired fashion like breeches, cravats, brocades, and an endless array of ruffled blouses. This sort of New Romanticism was big in the early '80s, but while acts like Boy George and Adam and the Ants skewed androgynous, Prince was pure sex symbol, gyrating across the stage in tight pants and unbuttoned shirts.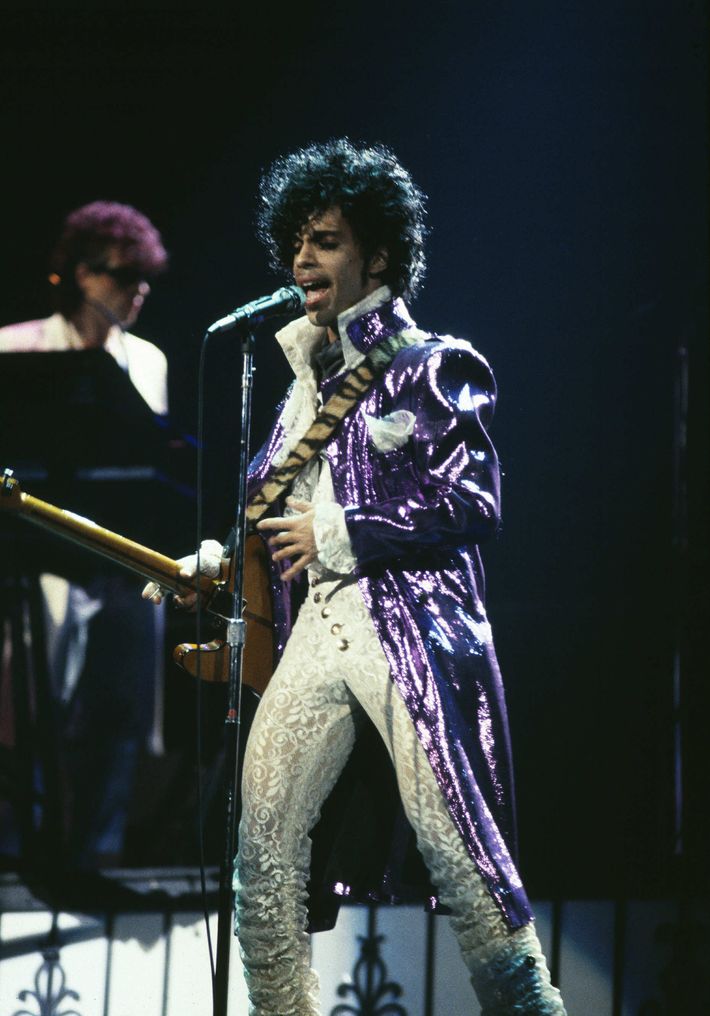 It's hard to believe there was a time that Prince wasn't identified with the color purple, but he really only claimed it as his own when his film and song Purple Rain debuted in 1984. For him, the color signified both royalty and mysticism, and he prefered it in the form of rich velvet or embroidered with sequins. Worn with thick eyeliner, it was a nod to music influences like Little Richard and James Brown, as well as Victorian court dress, a typically Prince-like range of reference points.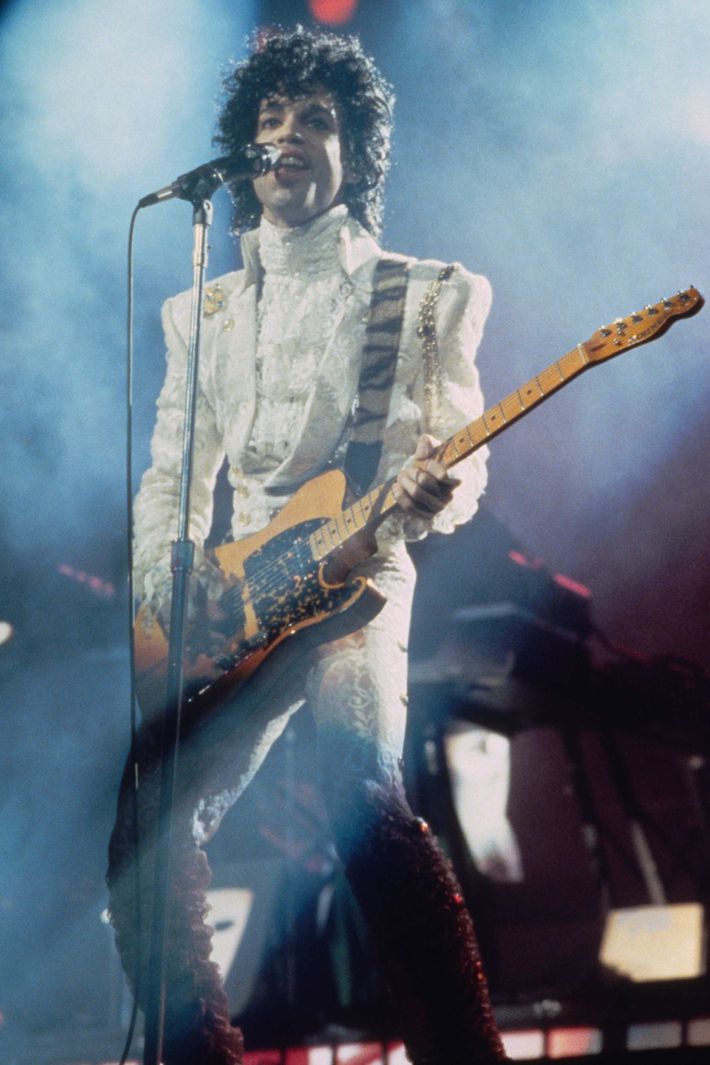 Also in 1984, after ditching the lace gloves, he also began wearing lace head to toe, in the form of suiting worn with high-collared shirts. The effect was more dandyish than his ruffled, undone peasant blouses.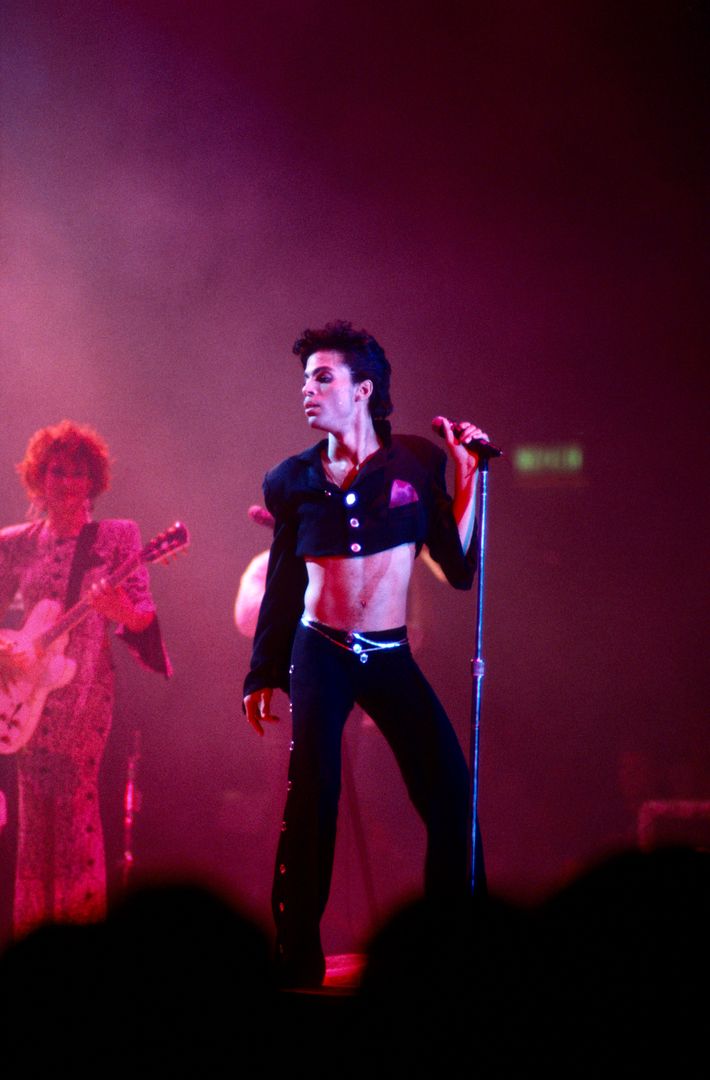 Prince treated toned abs as a fashion statement long before Janet or Britney. He showed them off with cropped tops and spliced jackets paired with his signature tight pants. Here, he performs in 1986.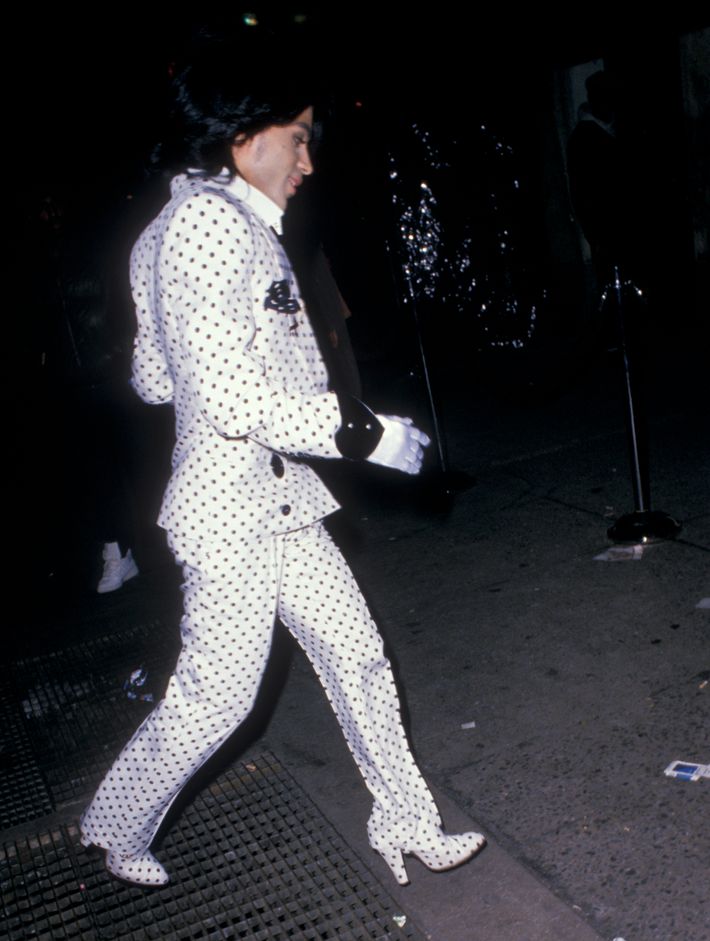 Prince's fondness for heels is legendary. It's said he favored boots with chunky platforms and Cuban heels because "the women like 'em."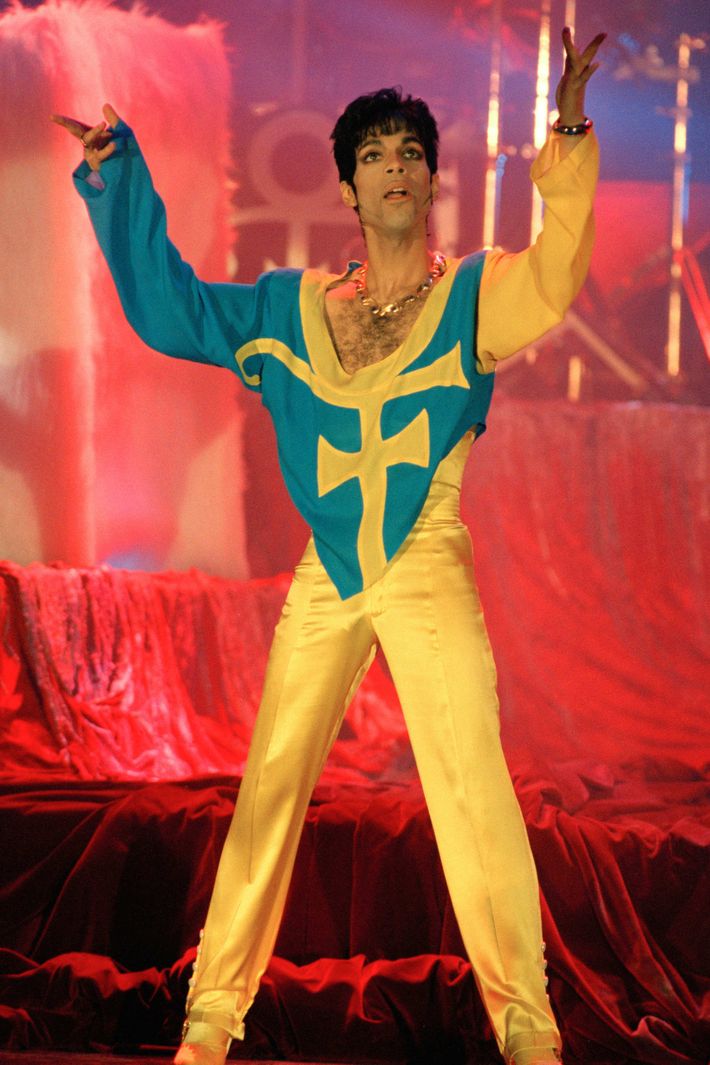 In 1993, in his most overt statement about gender, Prince exchanged his stage name for a symbol blending the signs for male and female. The Aritist Formerly Known as Prince took to wearing colorful stage costumes and even playing a guitar in the shape of this symbol — something he continued even after returning to the name Prince.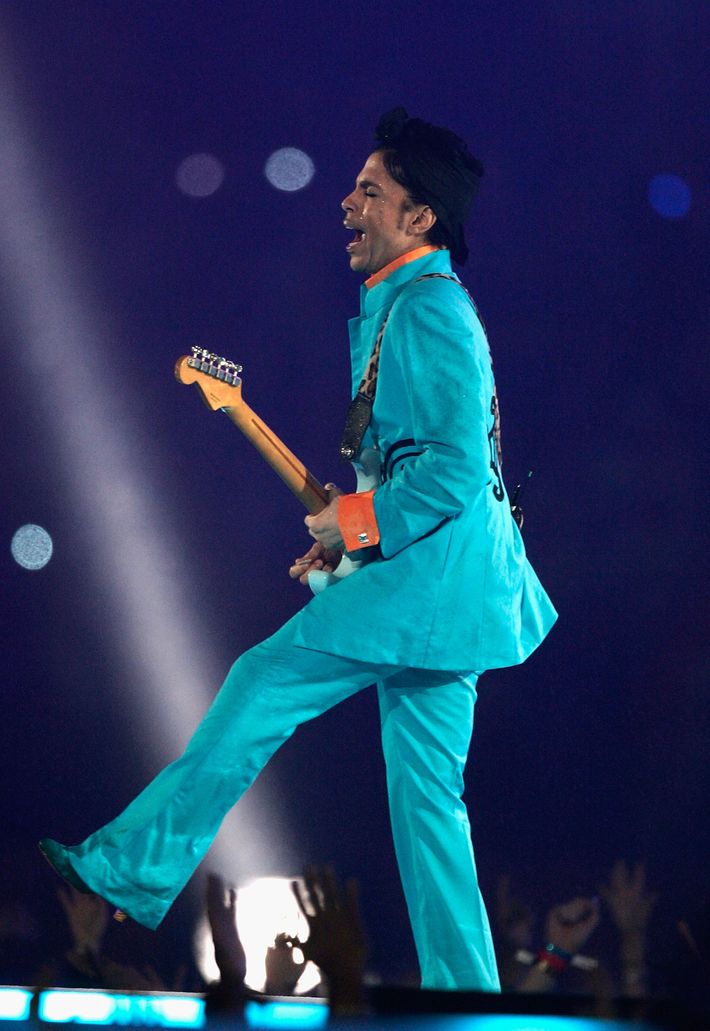 Another Prince favorite: color-blocking. In 2007, he might look less racy than usual in this brightly colored suit, but he reminded everyone of his sexual prowess with an undeniably phallic guitar grip.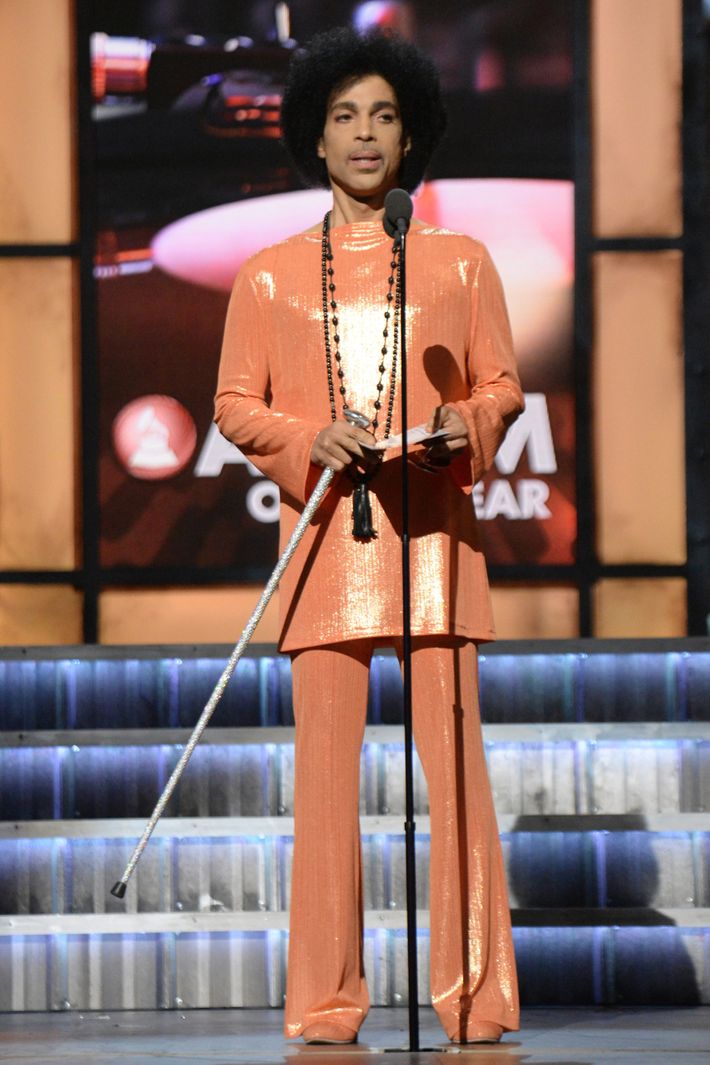 By the 2000s, he'd grown fond of two-piece ensembles consisting of spangly, shimmering tunics and flared pants, paired with a sequined cane. This fancy loungewear was clearly more comfortable than, say, the assless suits of his youth, but it looked just as — more proof that Prince was an eternally cool risk-taker when it came to fashion.