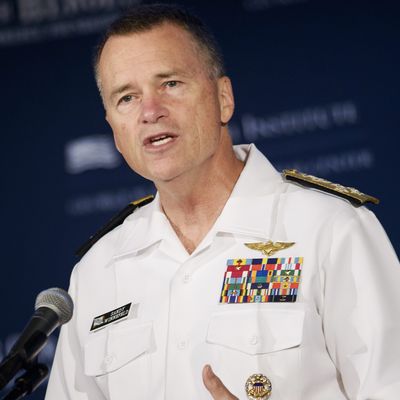 Retired Joint Chiefs of Staff Vice Chairman Adm. James Winnefeld Jr.
Photo: BRENDAN SMIALOWSKI/AFP/Getty Images
A new investigative report by the Associated Press reveals that in order to prevent a Senate bill from passing that would change how the military handles cases of sexual assault, the Pentagon misled Congress by providing inaccurate and unspecific information on cases of sexual assault that they'd previously brought to trial.
This information was provided to the AP by Protect Our Defenders, a national organization that addresses "the epidemic of rape and sexual assault in the military." From the AP:
Internal government records that summarized the outcomes of dozens of cases portrayed civilian district attorneys and local police forces as less willing than senior military officers to punish sex offenders. The documents buttressed the Pentagon's position that stripping commanders of their authority to decide which crimes go to trial — as the Senate legislation proposes — will mean fewer victims will get justice because there will be fewer prosecutions.
But Protect Your Defenders, through an FOIA request, found that the roles civilian authorities in the cases played were "described incorrectly or omitted" or that details surrounding cases tried by local police or attorneys were "too imprecise to be verified." Protect Our Defenders said they found no evidence that any of the cases brought to trial were done so at a commander's insistence. In 2013, the then-vice-chairman of the Joint Chiefs of Staff, James Winnefeld Jr., told a Senate panel that if the bill passed, fewer sexual-assault cases would actually go to trial. The bill aims to "strip senior officers of their responsibilities to decide whether to prosecute sexual assault cases and giv[es] that authority to seasoned military trial lawyers," the AP reports.
A spokesperson for Senator Claire McCaskill, who supports the bill, told the AP, "The importance of these cases is that they show definitively that commanders don't sweep sexual assault cases under the carpet. On the contrary, the numbers continue to prove that commanders aggressively pursue courts-martial."