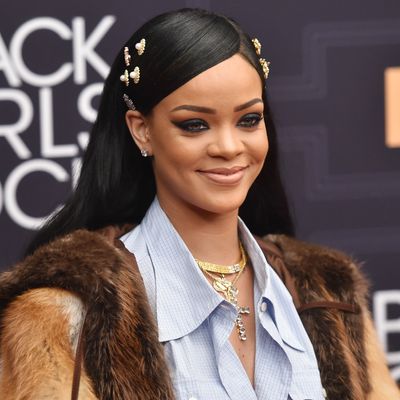 Rihanna.
Photo: Paras Griffin/Getty Images
Guys, we did it. We made it through the One Direction doc, the Katy doc, and both Bieber docs (2-D and 3-D), and finally our patience has been rewarded. We are getting a Rihanna documentary.
Directed by Friday Night Lights' Peter Berg, who worked with RiRi on 2012's Battleship, the film aims to be more a character study than concert documentary, and will offer an "unfiltered look into Rihanna's life and how she's ascended to become a global icon."
According to Deadline, the documentary will be shot in the style of the unvarnished 1967 Bob Dylan documentary Don't Look Back, and will presumably allude to the stars' many similarities: their DGAF attitudes, their love of weed, and the fact that they both look really good in hats.
Will this be the film to finally pull back the veil on pop's most elusive chanteuse (well, after Beyoncé)? Who knows, but even if this ends up just being a looped vine of RiRi winking sassily, we'll probably still pay to see it twice.