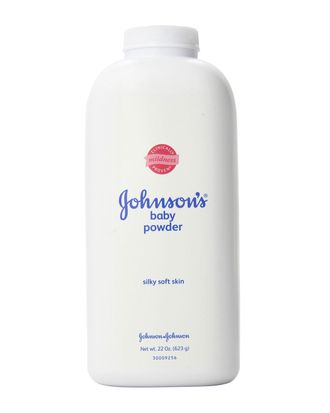 Johnson & Johnson Baby Powder.
Photo: amazon.com
In February, a jury determined that Johnson & Johnson should pay more than $70 million to the family of a woman who was diagnosed with advanced ovarian cancer, in 2013, at age 59. In depositions, Jacqueline Fox said she sprinkled J&J's baby powder in her underwear every day since she was a teenager to stay "fresh and clean"; she passed away in October. This wasn't the first time the company was sued over talcum powder, and it won't be the last, as many women grew up using the product at the recommendation of their mothers and grandmothers.
Bloomberg reports that Johnson & Johnson is facing more than 1,000 lawsuits from women claiming the company knew that the talc in its Baby Powder and Shower to Shower products was linked to ovarian cancer when used in the genital area, but didn't warn customers. The company marketed both products for feminine hygiene, and in the '80s it told The New York Times Magazine that 70 percent of baby-powder users were adults. A 1988 ad for Shower to Shower said "just a sprinkle a day keeps odor away." Others reminded women: "Your body perspires in more places than just under your arms."
J&J's Baby Powder labels do advise that it's meant for external use only, but some researchers argue that baby powder applied topically could travel up the vagina and make its way through the uterus, finally landing in the ovaries. The studies on perineal talcum-powder use and ovarian cancer risk have mixed results, but experts who testified on behalf of Fox's family believe J&J at least had a duty to warn customers of the possible association.
The company started selling cornstarch-based baby powder alongside its talc formula in the '70s, and the American Cancer Society has said, since 1999, that cornstarch products are a good alternative for women who are concerned about the health risks of talc.
But whether or not talc causes cancer, it's worth looking at the reason why some women use these products on their undercarriages in the first place: They've gotten subtle (or not-so-subtle) hints throughout their lives that their vaginas are smelly and even repulsive and are in need of fragrance, douches, and other feminine hygiene products, most of which can ironically cause irritation. Women born after the '50s and '60s have witnessed a different conversation, and thanks to the internet, they can easily find out that they don't need soap, powder, or douches and that vaginas are self-cleaning, like that feature you never use on your oven. Even men's sites are talking about this stuff.
Yes, we still have people trying to make vaginas smell like peaches but, overall, we live in an age of greater genital self-acceptance. If sprinkling your lady garden with cornstarch-based powder genuinely makes you feel fresh and good, then by all means continue dusting away. But if there's even a sliver of latent vaginal oppression guiding your routine, why not try skipping it?