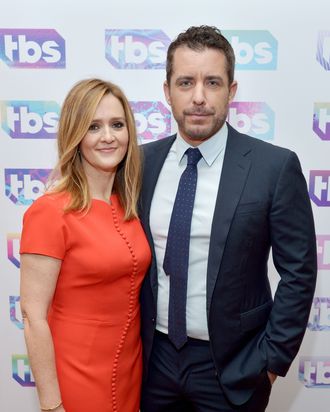 Photo: Charley Gallay/Getty Images
Samantha Bee and Jason Jones are that couple we all wish we could be. Together, they can actually make something that isn't precious and doesn't suck, and they're both funny. Their new venture is The Detour, a comedy set to air on TBS next week, about a couple and their kids, who have frank conversations about "sex, masturbation, and genocide." Relatable!
Jones and Bee wanted the show to be as true to life as they could make it, while also showing that there are comedy couples who actually love each other. The pair told Vanity Fair that the way their TV couple, the Parkers, bickers is partially inspired by their own relationship:
Referencing a scene in the fifth episode, Bee says, "Jason does fact-check me in conversations. That's an everyday occurrence."

Jones: "Yeah, because you say something stupid, and I go, 'That's not right. And I can prove it right now. I'll Google it.'"

Bee: "Then you prove that I'm right. And then you silently walk away."

Jones: "I would rather be right than happy."

Bee: "That is a fact."
Man questions woman. Woman ends up being right. Sounds familiar.