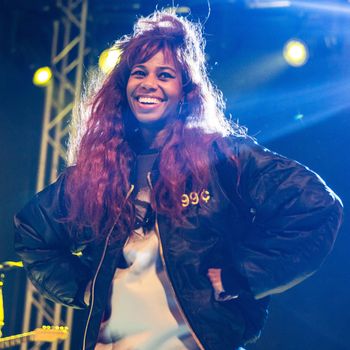 Santigold.
Photo: Lorne Thomson/Getty Images
Singer Santigold, a.k.a. Santi White, is known for her genre-defying style, in terms of her music and collaborations (Kanye West, Jay Z, Lily Allen), as well as the fashion spectacle she creates onstage — think bow-tie hats, Smurf body armor, and leopard print with metallic gold.
In an interview with the Cut, the 39-year-old artist discussed discovering her punk-rock style while growing up in Philadelphia (through her icons Salt-N-Pepa), what it really means to feel sexy, and why she loves dressing off-trend. 
I went to an all-girls school in the most WASPy, preppy area. The cricket club was across the street. The summer after seventh grade, I discovered the magical world of the Philly Fly Girls, which was the Salt-N-Pepa look, basically.
I went out and bought these huge gold earrings, which is how I got my [stage] name. To style up my uniform, I got a leather trench coat and a leather backpack. I was 13. Thirteen was the beginning of it all. I was out of there. I was like, fuck that. Then I went to a public magnet school in the city.
There were these different lawns where kids hung out — the skater lawn, the goth lawn, the raver lawn. It was the '90s. Hip-hop was huge to me. Girls back then did not wear super-tight, desperately-trying-to-show-off-their-bodies looks. From punk to hip-hop, girls were trying to be cool. To try to be sexy so desperately was not cool. Everyone was wearing baggy shit. I was into hip-hop at the time, and I also was into the Smiths and like, Bad Brains.
The way I feel about wearing clothes is very punk — practical. I do what I want. To me, that's what punk is. Punk in five words is I do what I want.
I totally don't follow the rules when it comes to people telling [me] what's impossible, especially when it comes to art. I don't listen. I love fashion, because, to me, fashion is art. The good fashion, not the trendy stuff – that's like factory pop music, the same shit and trends over and over. As soon as that happens, I won't buy it.
I like stuff that is practical, I like to be comfortable, I like to not be done-up all the time. That's the tomboy, punk-rock side of myself — the '90s grunge, which is still very alive in me.
I like being sexy but sexy is where there's a little bit of fucking mystery and you don't see everything I have. I like creating this air. That's sexy to me. That's probably what I take from the fashion and music role models I have from when I was growing up.
The way that women feel like they need to present themselves is no longer about what you're doing and how fucking great it is. It's about how much body you're showing, even if it's not something you were really born with. But you can basically create your body. I'm not into that, I'm not from that, and I don't care about that.
I love insane creative fashion. I love that I have the opportunity to wear stuff onstage and in photo shoots that I can't see wearing down the street. I'm so grateful to have these platforms to do it because otherwise I wouldn't get to interact with these insane, beautiful, beautiful fashion pieces that I'm also really drawn to, because I think that's where the art comes in.
As for designers, Gucci right now is one of my favorites. Alessandro, I saw his stuff when he first started, and I was like, "What happened to Gucci? This is amazing! What's going on?"
Then randomly, my husband [Trevor Andrew] collaborated with them on the newest line, and I went to the show and honestly, I was blown away. It was anything-goes, which, you know, I love. It was all over the place. It was dreamlike, where things don't really go together, pushing to the furthest boundaries of creativity.