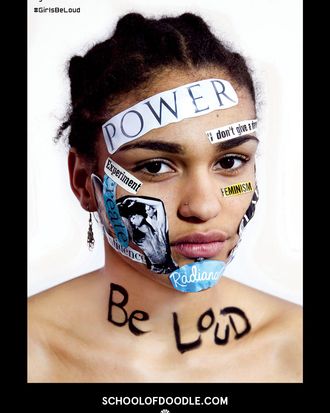 No matter how many years you've been out of high school, it's hard to forget what your locker looked like. Mine wasn't decorated (in fact, it was such a mess I hardly used it), but that's only because I took my scribbling, collaging, and decorating to the covers of notebooks, homework, and — to my mom's dismay — home furniture. Being a teen girl frequently feels oppressive and limiting, so having an outlet for creativity is a crucial way for young women to assert their self-expression. If you're lucky, that penchant for doodling carries on into adulthood.
But with more and more public school systems defunding arts programs, opportunities for self-expression are getting harder and harder to find. A 2012 NCES survey of the 2009–2010 school year in the nation's public schools found an "equity gap" in arts education: Students who attended low-income schools were much less likely to get arts classes than those in affluent areas. Public schools in Chicago, Philadelphia, and D.C. have all seen arts programs slashed or arts teachers laid off over the past few years, all in the name of saving money for subjects like math, science, and history.
A recent Art Works study found that "each additional year of arts study was significantly associated with a 20% reduction in the likelihood that an adolescent would ever be suspended out-of-school." In 2008, a Pew Research Center study found that 49 percent of teen girls keep a journal. If girls are this invested in their own creativity, where will it go when their schools abandon the arts?
Enter School of Doodle, an online space for teenage girls that launched today. Last summer, entrepreneur Molly Logan and her friend Elise Van Middelem raised more than $100,000 for School of Doodle through a Kickstarter campaign. Kim Gordon, Natasha Lyonne, Yoko Ono, Wangechi Mutu, and Arianna Huffington became supporters. On the platform, teen girls are invited to create private "locker" accounts, where they share and post any kind of creative expression.
"Growing up, I felt tremendous frustration in not having access to ideas and people who could help me realize big dreams, and particularly frustrated that the world did not take the thoughts and creations of a teen girl seriously," School of Doodle founder Molly Logan told the Cut via email. "So, I guess, Doodle is for the 16-year-old me."
The online teen-girl space has been through a renaissance in the past couple of years, with the founding of Rookie and the exponential growth of Tumblr. School of Doodle intends to align itself with those sites, but with one big difference: "Unlike Tumblr and NewHive, only teen girls and community approved Locker Partners can publish. School of Doodle will author only about 20% of the content on the site," the terms say, "with the rest being produced in partnership with and/or independently by teen girls and Locker Partners." Public content can be posted by Doodle advisers and ambassadors, but the private community is only for teenage girls.
The website's goal remains broad and simple: "Ultimately, we hope to provide girls and the people who believe in them with a space to discover amazing things and go out into the irl (in real life) and url (online) worlds to find more."
School of Doodle comes at an important time: With more and more public efforts to direct young women toward careers in STEM and tech — spaces that still desperately need female voices — there's a real risk of art taking a backseat. But Logan says this push toward science is not a threat to creativity; in fact, she argues, having both options only increases the potential for young women's growth. "We feel very strongly that without the support of the arts, these STEM spaces of innovation will suffer significantly," she said. "No imagination = no innovation, simple." Having a creative outlet at a place like School of Doodle is just one part of the plan to give power back to girls.
School of Doodle officially launched today with a "Letter From Teen Girls to the World," signed by the 80 teen ambassadors who work to keep the site running. School of Doodle's Girl Code outlines a number of different personal affirmations, but most of all,  "Be Loud." "It means speaking your mind, feeling your power and always having your Doodle sisters' backs," Logan said.
And for those of us who have aged out of School of Doodle's target group? We can appreciate their public-facing expression, Logan said: "We believe everyone, regardless of age and gender, needs to see and hear from these extraordinary creative brains."