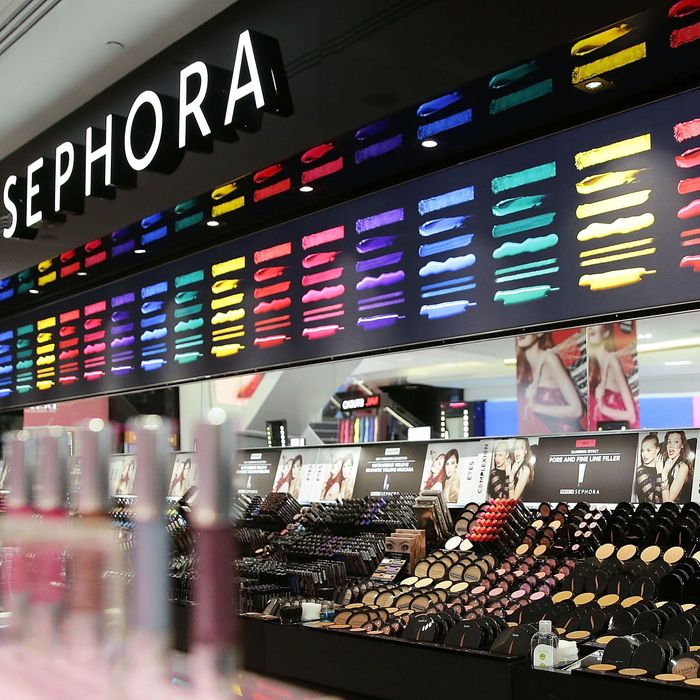 Photo: Mark Metcalfe/Getty Images
When you spend eight hours with one of New York City's top Sephora cast members, which is Sephora speak for sales clerk, you'll probably wonder what possessed you to leave the house wearing no color correction whatsoever. By hour six, sitting in the Beauty Studio, you will have remedied that situation. By that time, you also might have started addressing total strangers as "hon," in the Sephora manner. You will know the precise differences among Tatcha, Tata, Tarte, and Too Faced.
Ronnie Lo Faso let me shadow her at the 5 Times Square branch of Sephora last week. She's a fragrance and skin-care specialist, and, on our day together, the store's Director in Charge (DIC): the big boss. There is nothing bossy about her, though. Ronnie operates with the grace and magnanimity of an ambassador to a small, very well-groomed country. Lichtenstein, maybe.
Since its arrival in the U.S., Sephora has become a seductive and compelling alternative to the department-store beauty floor. As Sephora has grown in size and influence, it has fueled our populace's general beauty madness. I went to its U.S. launch in Soho in 1998, where the focus was on fragrance; now Sephora devotes most of its floor space to color cosmetics, or what regular people call makeup.
Ronnie has clocked nine years at Sephora, starting as a holiday extra selling fragrance in Manhasset, New York, and eventually moving to Times Square. She excelled beyond the sales floor, or "stage," writing questions for the tool that would become the Skin Care IQ, a touchscreen quiz that helps clients find the right skin-care products for their needs. "I suggested the question, 'If you could change one thing about your skin, what would it be?'" says Ronnie. "But they worded it a little differently." Editors! "The thing is, your makeup is only as beautiful as your skin."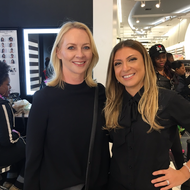 Ronnie's makeup is indeed beautiful. She is wearing one of her favorite day looks: primer, color correction, contour, foundation, two blushes, liquid liner, major mascara (Dior Black Out), eye shadows plural, brow color, concealer, lipstick. This sounds like a lot but doesn't come off as excessive in the context and lighting of Sephora. She looks especially fantastic in photographs.
The rules for cast members start with makeup. Niesha, who's training to be a senior artist, tells me, "We're required to do full-face makeup on ourselves, with two colors on our cheeks and two or three colors on the eyelids. I take my makeup off when I go out at night. People say, 'Why are you taking your makeup off?' But I just wear balm when I'm not here."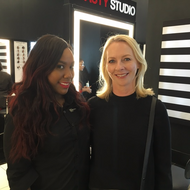 Appearance matters at Sephora, clearly, and that includes the uniform, which is called a "costume" — "We're very theatrical," Ronnie explains. It was designed by Prabal Gurung and consists of either black pants and a long-sleeve collared shirt with a neck bow, which can be worn with a black blazer, or a black tunic with a red stripe down each arm. The tunic is emphatically not a dress, as the rules tacked to the wall in the break room make apparent. Under the "Don'ts" is "Don't wear the tunic alone," along with the suggestion to pair it with black tights, pants, or leggings. The list of don'ts also includes decorative belts, big jewelry, sneakers, and hats. Everyone from the leader to the most junior cashier dresses alike; the makeup artists add a tool belt filled with brushes.
Not on the Do list but understood is the imperative to be friendly, something I hadn't detected at the Ronnie-free Sephora in my neighborhood. Perhaps the problem was my body language, which I'm pretty sure screams, "Go away." Ronnie can decipher these things. "You can tell whether a client wants help or wants to be left alone. I'll say, 'My name is Ronnie, I'm working in the area, so let me know if I can help you.' If the client doesn't want help, she communicates that with closed-off body language, like a raised hand and no eye-contact."
Otherwise, this is what you hear from cast members all day:
"Hi, sweetie."
"Hi, honey."
"What's your name, sweetie."
"I love that name."
"What can I do for you today?"
"Okay, babe."
"You wing out that line so well."
"Your son is getting married? That's amazing!"
"Have a good day, hon."
Many of the clients at the Times Square Sephora are tourists with foreign accents wandering in from Madame Tussauds or Aladdin. At 10 p.m., the store is hopping; "that's when people come in to touch up their makeup," Ronnie says.
On the Wednesday I visited, women and their patient boyfriends, and girls and their patient mothers are loading up on products that don't exist in Germany, Ireland, or Australia. They're searching for concealers that won't make them "raccoon-y" and then are gently led to a free mini-makeover or a 90-minute customized overhaul ($125, redeemable in products). One young woman from Ireland in a jean jacket, black dress, and sneakers asks for a cleanser and then for some instruction on grooming her brows. Soon, she is sitting in front of a lighted mirror in the Beauty Studio, her boyfriend in a Hollister hoodie yawning on a stool at the next station. "Once she asks about brows, she trusts you," says Daniel, a cast member. "Then you do her complexion. Then you do her lip." The Irish woman leaves with ten products: foundation, primer, contour, lipstick, lip exfoliator, brow powder, and the four cleansers she came in to buy.
Because Sephora cast members aren't paid on commission, they don't push a particular line or number of products. They'll even welcome the Times Square crazies. "We assist them," says Ronnie. "And they feel so happy and so acknowledged." The shoplifters are acknowledged, too, but in a reverse-psychology way. "If we see someone take something, we will client-service them, and they hate client-servicing," says Ronnie. "I'll say something like, 'I see you're interested in the Givenchy primer. Can I answer any questions for you?' And they sometimes put it back."
With products lined up like candy, shoplifting is an issue. I saw a man pocket a lip balm in the line at the cashier, but no one stopped him. The cast members, by instruction, don't accuse anyone of theft. For that, there is the Loss Prevention Agent, Eric, a lean guy wearing glasses. Eric looks nothing like the stereotypical bouncer or body guard, and you might not even notice when he stops a theft in progress. No one wants to break the happy Sephora bubble.
Browsers seem to have no compunction about doing their entire makeup straight from a tester, and then meandering over to the nail area to give themselves a full manicure without buying a thing. And that's okay. "They can stay here and paint their nails all day if they want to," says Lucia, who, at 51, says she's the oldest cast member in the store. I saw one customer stand in front of a display and clean her nostrils for 15 minutes with a disposable swab, and no one seemed to mind. Workers float around, skimming microfiber dusters over the displays, straightening boxes, silent human Roombas. There are disposable mascara wands, swabs, and sponge-tipped applicators to dip in the testers. And, before applying a lipstick or eyeliner, a cast member will spray alcohol on a tissue and scrape off the top, or what Ronnie calls "the layer of uncertainty."
Niesha offers me a custom makeover when the action slows down after lunch. I see it as an opportunity to sit, so I go for it. She determines my Color IQ number with a device that looks like a photographer's light meter; true Sephora fans rattle off their numbers as fluently as the last four digits of their Social Security number. The Color IQ finds 30 foundation matches for me in the store. Niesha doesn't hold back, applying:
• Primer
• Anastasia Brow Powder. Niesha brushes the darker of the two colors on my arch first, then fills in the rest with the lighter shade. I buy it ($23).
• Concealer directly under my brows to "sketch them out," says Niesha.
• Eye-shadow primer
• Four shades of eye shadow from the Tartlette Amazonian Matte Day palette. "You can really pack that on," says Niesha. Sold ($45).
• Laura Mercier Candleglow Foundation in Linen with Sephora brush No. 47. I buy the foundation ($48).
• Color correction: Urban Decay Naked Skin in Peach on my under-eye circles. "Then you don't have to use so much concealer," says Niesha.
• Laura Mercier translucent loose powder
• Bronzer instead of blush. Niesha starts at my hairline just below my temple and swoops Estée Edit bronzer toward my nose. "You don't want to apply it to your apples first, because that makes the face look small."
• Highlighter from the Anastasia Glow Kit. "I live for highlighter," says Niesha.
• Lancôme Drama Instant Full Body Volume Mascara
• Bite Beauty lipstick in Pecan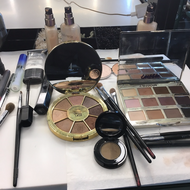 Twelve steps with 16 products is a personal record! Niesha's philosophy is, "Lots of products can make other products less necessary," but I don't think the numbers bear that out. I'm a little alarmed when I catch a glimpse of myself in one of Sephora's many mirrors, but for the rest of the day, everyone compliments my makeup and I feel as if I've passed some initiation rite. I do look better in a selfie. That night, feeling almost like a Sephora cast member, I use three products — micellar water, oil cleanser, and gel cleanser — to wash it all off.